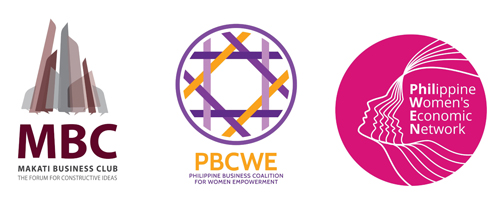 MAKATI CITY, Philippines, May 16, 2018 – The Makati Business Club (MBC) and the Philippine Business Coalition for Women Empowerment (PBCWE) announced their partnership to jointly conduct an evidence-based research on the real state of gender diversity in the top management level of Philippine corporations. The MBC-PBCWE research and advocacy project entitled, "Addressing the Leaking Pipeline in the Philippines (ALPP): Evidence-based Advocacy for Gender Diversity in the C-Suite," also seeks to provide manageable and realistic solutions for companies to attain gender diversity in top executive levels.
"We are confident that this partnership with Makati Business Club can help us better understand the state of gender diversity in the business sector and be able to get more women into the C-Suite level," shared Philippine Women's Economic Network (PhilWEN) Chairperson and PBCWE Co-Chair Ma. Aurora "Boots" Geotina-Garcia
Aside from analyzing the current state of gender diversity in the C-Suite level in corporations operating in the Philippines, the joint project shall also assess company policies and culture that impact leadership opportunities for both men and women, and offer effective interventions to best address the opportunity gaps.
"A balance of gender representation at management levels is critical to the success of business, particularly in the Philippines," said MBC Chairman Edgar Chua. "We must be able to address these gaps within the leadership pipeline if we want businesses to thrive."
###
About PBCWE
The Philippine Business Coalition for Women Empowerment (PBCWE) was launched in March 2017 through the Australian Department of Foreign Affairs and Trade (DFAT) funded Investing in Women (IW) program. In the Philippines, IW has partnered with the Philippine Women's Economic Network (PhilWEN) to create a business coalition to pursue Gender Equality (GE) in the workplace and Women's Economic Empowerment (WEE) nationwide.
PBCWE is made up of influential businesses that are large employers who will take the appropriate steps to improve gender equity in their own workplaces and to influence businesses, both in their supply chains and other large businesses, and to also become better employers of women.
PBCWE's founding members are Accenture, Ayala Land Inc., Convergys, Magsaysay Group of Companies, Natasha, SGV and Co.,and SSI Group.
About Makati Business Club
The Makati Business Club is a private non-stock, non-profit business association organized as a Forum for Constructive Ideas. The main thrust of MBC is to foster and promote the role of the business sector in national development efforts through policy advocacy, investment promotion, responsible business advocacy, and corporate citizenship initiatives. It is committed to addressing national economic and social issues that affect the sustainable development of the country.