Our honourable guests, Ms. Lilia De Lima, Undersecretary Nora Terrado, and Atty. Perry Pe,
Fellow members and guests of the Makati Business Club,
Friends from the media,
Ladies and gentlemen,
Good afternoon and welcome.
This morning, the Makati Business Club, as the Philippine partner institution of the World Economic Forum, released the Global Competitiveness Report 2018-2019 which introduced a new index called Global Competitiveness Index 4.0. In this report, the Philippines ranked 56th out of 140 countries, and have regained its ranking as the 5th most competitive economy in ASEAN region (out of the 9 ASEAN countries covered).
Please note that because of the transition to GCI 4.0, the rankings are not comparable to previous reports, but it does provide a much-needed compass to bridge today's challenges and the long-term solutions it require.
What makes this year's report different and special? For one, WEF has integrated the key drivers and defining features of the Fourth Industrial Revolution into the definition of "competitiveness". More and more, we will see the growing significance of these four factors: Human Capital, Innovation, Resilience, and Agility – and this is reflected in the Report. One thing you will notice, as well, is that the list of the top problematic factors in doing business in a country has been removed.
Without going much into the detail, allow me to share with you the key highlights of this Report as it relates to the Philippines.
In ASEAN, Singapore remains the most competitive, ranked second globally; followed by Malaysia (25th), Thailand (38th), and Indonesia (45th) – all four included in the world's top 50 list.
Of the 12 competitiveness pillars, the Philippines' strength lies on 4 pillars, and these are our Market size (where we ranked 32nd), our Labor market (where we ranked 36th), our Financial Systems (where placed 39th globally), and our Business dynamism (also, 39th out of 140).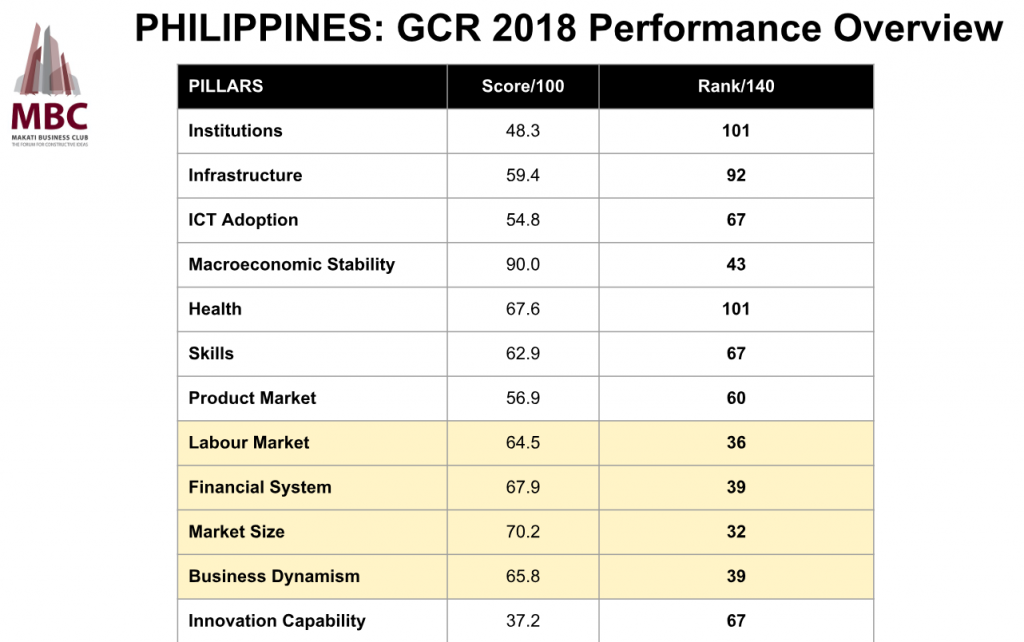 On the other hand, of the 12 competitiveness pillars, we rated and ranked poorly in our Institutions (101st of 140), Infrastructure (92nd), and Health (101st globally). Interesting to highlight is the fact that among the country's weakest indicators belong in the "Institutions" pillar, and these are: Terrorism incidence (136th), Reliability of police services (123rd), Conflict of interest regulation (121st), and Organized crime (120th). In fact, the Global Competitiveness Report specifically stressed these nagging problems in the Philippines, highlighted as well for Nigeria, Yemen, South Africa, and Pakistan.
On the positive side, I would like to highlight two important facts that this Report revealed. First, our people's skills remain strong. New indicators introduced by WEF in this Report show that the quality of our vocational training, the digital skills of our people, the skillset of our graduates, and critical thinking in teaching are all globally competitive. Continuing on this path, especially upscaling our workforce to prepare them with more industry changes that is to come, should be a priority of both business and government.
The second point I would like to make is business dynamism. Out of 140 economies, we ranked 12th in "companies embracing disruptive ideas" and 15th in "Growth of innovative companies". This is primarily driven by the private sector's progressive mindset. We see companies integrating sustainability and innovation into their business models and harnessing the potential of technology to increase productivity – and this substantially support the continued growth of the Philippine economy.
With the WEF Report coming out today, it is timely to have this GMM discussion on Philippine Competitiveness, especially as economic, political and social developments are currently affecting our performance. We need to consciously build on our strong pillars, and to aggressively address our weak spots, particularly in the ease of doing business, corruption incidence, and infrastructure, and road connectivity.
To introduce our guest speaker and panel of reactors, may I call MBC Trustee, Mr. Guillermo Luchangco.
For the full copy of Mr. Edgar Chua's presentation click here