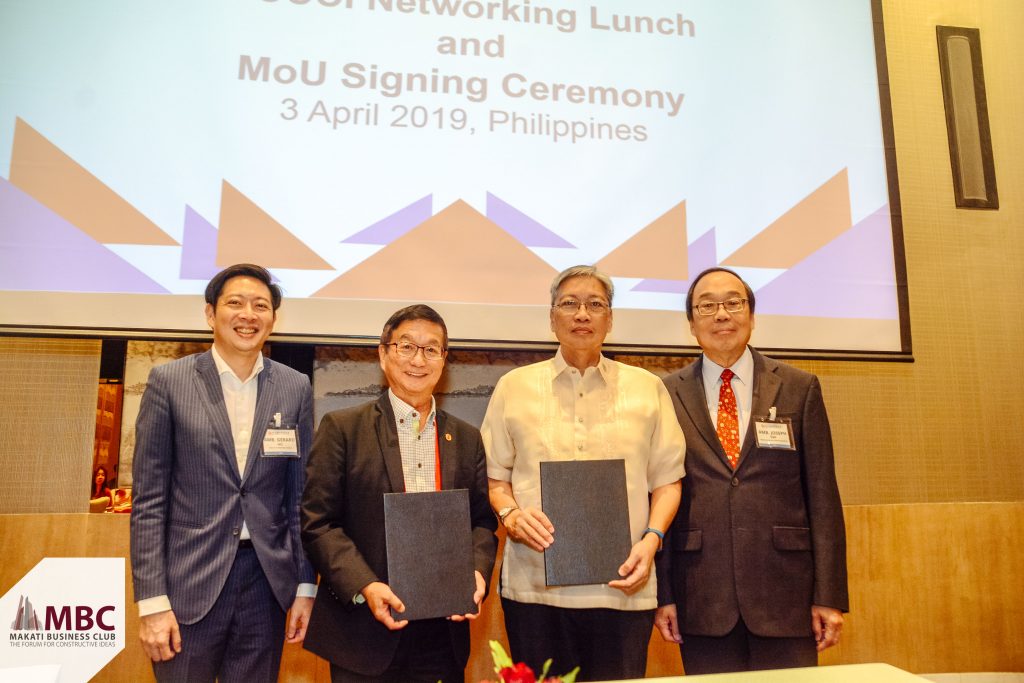 April 3 – In line with its mission to advance trade and investment promotion for the Philippines, the Makati Business Club signed a Memorandum of Understanding with the Singapore Chinese Chamber of Commerce and Industry.
Established in 1906, the Singapore Chinese Chamber of Commerce & Industry (SCCCI) is an internationally renowned business organisation and the apex body of the Chinese business community in Singapore, with a membership network comprised of 5,000 corporate members and more than 160 trade associations.
The Chamber is in Manila from April 2-4 for a business mission co-organized by Enterprise Singapore and made up of 29-member delegation led by Roland Ng, President of SCCCI.
The Memorandum of Understanding was signed by Rolando Ng and MBC Chairman Edgar Chua; the signing was witnessed by H.E. Gerard Ho, Ambassador of Singapore to the Philippines, and H.E. Joseph Yap, Ambassador of the Philippines to Singapore.
Also in attendance at the lunch reception were key representatives of the Philippine and Singaporean private sector in Manila, including Guillermo Luchangco, Chairman of the Philippines-Singapore Business Council, and Oh Lock Soon, Chairman of the Singapore Philippines Association.