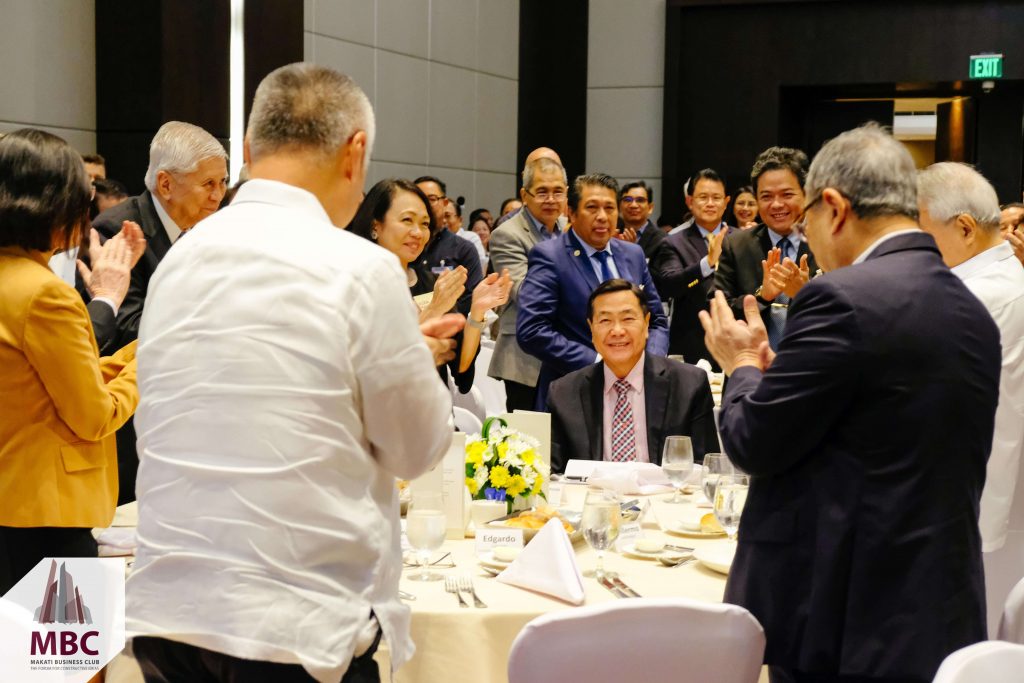 18 October 2019 – Makati Business Club, Employers Confederation of the Philippines (ECOP), Financial Executives Institute of the Philippines (FINEX), Judicial Reform Initiative (JRI), and Management Association of the Philippines (MAP), paid tribute to retiring Senior Associate Justice Antonio Carpio in a joint testimonial lunch.
MBC Trustee Ramon Del Rosario praised Justice Carpio for his commitment to uphold the rule of law. Mr. Del Rosario said that it is not titles that confer prominence, but consistent excellence that makes Justice Carpio "Chief among the Justices". Mr. Del Rosario praised Justice Carpio for reminding Filipinos that "national dignity should not be traded for a few bridges and roads". He encouraged the audience to "stand proud as Filipinos who are subservient to no one."
In his testimonial "The Bad, The Good, The Better, and The Best News", former Chief Justice Panganiban said the "bad news" was the five missed opportunities for Justice Carpio to be named Chief Justice. The "good news" is the Supreme Court unanimously granting him benefits due to a Chief Justice on his retirement. The "best news" will come when "the world joins Carpio in his single advocacy of protecting our sovereign rights." Former Chief Justice Panganiban said because of this, Justice Carpio will one day be acclaimed a hero.
Albert Del Rosario, former Secretary of Foreign Affairs and Ambassador to the U.S., said Justice Carpio demonstrates patriotism in the face of adversity, inspiring Filipinos to be "responsible members of the international community". Ambassador Albert Del Rosario called for the audience to be defenders of the Constitution: "As enshrined under our Constitution and as a matter of national honor, we Filipinos have a solemn duty to protect and preserve our country's rights."
In his response, Justice Carpio emphasized the importance of developing a culture of excellence among judicial employees: "A culture of excellence is the software that will make the judicial machinery run efficiently." He enumerated the five mechanisms for an honest judiciary: "Choose judges well, pay judges well, train and motivate judges well, and monitor the integrity of judges well." Justice Carpio said retirement will allow him to devote more time to defending Filipino sovereign rights in the West Philippine Sea.