29 November 2019 – In collaboration with the Ayala Foundation, Makati Business Club (MBC) members served as mentors in this year's Filipino Young Leaders Program (FYLPRO) Mentoring Sessions.
MBC mentors included Mr. Frederick Go, CEO of Robinsons Land Corporation; Mr. Samuel Tan, Country Manager of UnionPay International; Atty. Alexander Cabrera, Chairman of PwC Philippines; and Atty. Leslie Cruz and Atty. Peter Calimag, Senior Partners of Cesar C. Cruz & Partners Law Offices. Each mentor met with their FYLPRO mentee to exchange insights and collaboratively identify ways to fulfill the mentee's legacy project.
Robinsons Land Corporation's Frederick Go with FYLPRO delegate Eileen Igcasenza
Mr. Go and FYLPRO delegate Ms. Eileen Igcasenza, a realtor and executive director of the Guam Women's Chamber of Commerce, discussed real estate and Ms. Igzasenza's aims of strengthening the Philippine business community and the Young Fil-Am network in Guam.
Mr. Tan met with FYLPRO delegate Mr. Kevin Zagala, an engineer at Reputation.com, about expanding Mr. Zagala's Bay Area Casual Carpoolers (BACC) app to the Philippine market.
Atty. Cabrera and PwC Philippines with FYLPRO delegate Everett Icao

FYLPRO mentee Mr. Everett Icao, a paralegal from Chicago, was matched with Atty. Cabrera of PwC Philippines. They discussed Mr. Icao's objective to encourage young Filipino-Americans to connect with their Filipino roots.
Cesar C. Cruz & Partners Law Offices and FYLPRO delegate Rizza Palmares O'Connor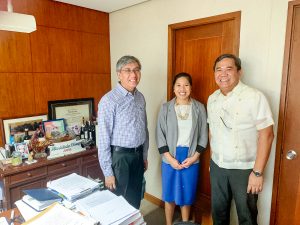 Courtesy Visit with Judge Rico Liwanag and Atty. Peter Calimag
Atty. Cruz and Atty. Calimag, hosted Honorable Rizza Palmares O'Connor, Chief Magistrate Judge of Toombs County. Their meeting focused on Judge O'Connor's interest in de-clogging court dockets in the Philippine judiciary. Providing further guidance with her legacy project, Judge O'Connor also met with Judge Cesar Cruz of the Mandaluyong Municipal Court and Founding Partner of Cesar C. Cruz & Partners Law Offices, and Judge Rico Liwanag of the Makati Regional Trial Court.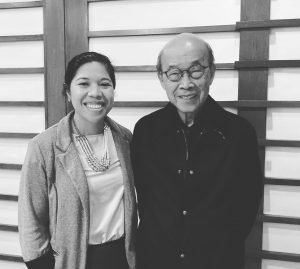 FYLPRO delegate Rizza Palmares O'Connor with Judge Cesar C. Cruz
Makati Business Club also arranged a meeting between FYLPRO Delegate Joyce King and MBC Member Company SyCip Law. Their meeting tackled areas of public-private collaboration to support Atty. King's Project Ligtas Bata, an international web-based campaign that combats the commercial and online sexual exploitation of children across the Philippines.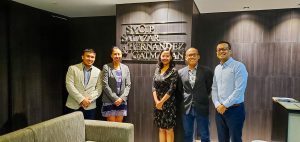 FYLPRO delegate Joyce King with SyCip Law Partners