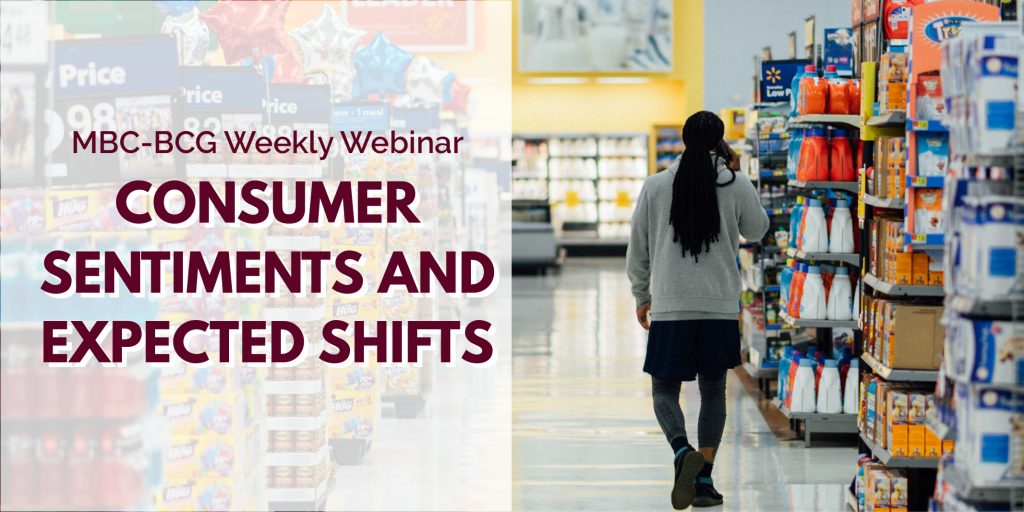 13 April 2020 – Makati Business Club and Boston Consulting Group hosted the second session of their weekly webinar which focused on consumer behavior and retail amid COVID-19.
The session featured BCG managing directors Anthony Oundijian in Manila, Shiv Choudhury in Singapore, and Vincent Lui in Hong Kong. The discussion covered local and global consumer sentiments, learnings from the recovery in China, and how retailers can rebound quickly post-COVID.
The pandemic has caused major shifts in consumer behavior: tech adoption, homebody mindset, reduced spending on non-essentials and travel, and urban decongestion. As these shifts are expected to continue post-COVID, Choudhury shared that businesses need to rapidly adjust their model and portfolio to cater to these new behaviors in order to survive. "Digital acceleration will separate the companies that will reap benefits from those who won't," Choudhury stated. Choudhury also reckoned that established brands will have an upper-hand post-COVID as there will be less "new players" in the market. 
Based on BCG's survey in March 2020, Philippine consumers believe that there will be a recession, but a majority are positive about economic recovery. China is showing signs of recovery with businesses resuming operations. China's rebound can be traced to factors such as government financial intervention, digital contact tracing, and social safety nets. However, Lui presented that shifts in consumer sentiments are causing varied recovery speeds across industries in China. Following lessons from Chinese companies, Lui advised businesses to "look ahead, reframe efforts, and adapt bottom-up approaches to complement top-down efforts" in order to rebound quickly. "The landscape is going to change dramatically moving forward as consumer behavior is not static, so it is important to prioritize digital investments now," added Lui.