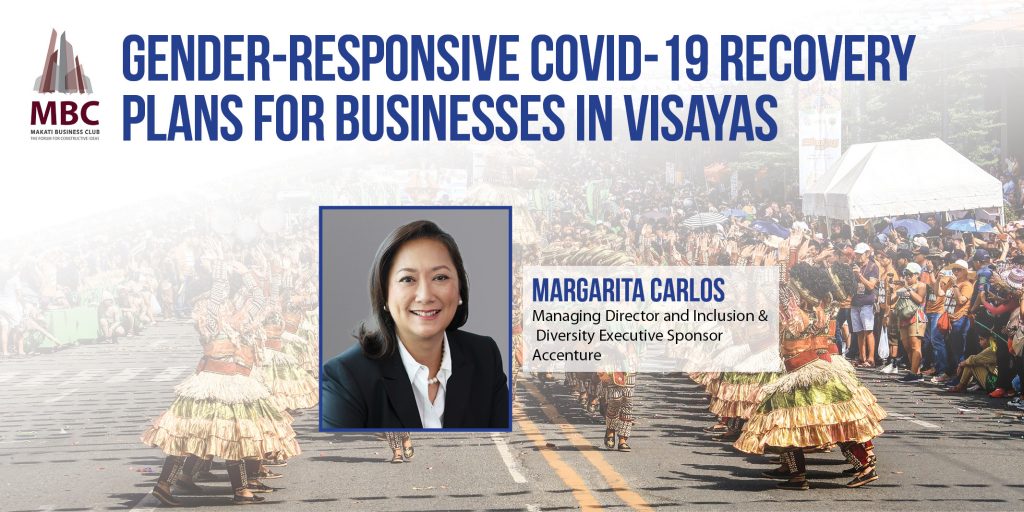 14 July 2020 – Almost all work has been altered by COVID-19. Women's economic empowerment has been hard-hit because womenrepresent 90% of workers in highly-affected sectors such as care and apparel.  To help Businesses overcome this, MBC, UN Women, WeEmpowerAsia and the European Union organized an online series, "Gender Responsive COVID 19 Recovery Plans for Businesses". 
Following a Luzon session, the group met with Visayas executives and business owners. Keynoter Margarita Carlos, Accenture's Inclusion & Diversity Executive Sponsor,  discussed the value of an empowering organizational culture and how to build shared workforce resilience. Ms. Carlos shared Accenture's threefold plan to foster resilience in people – innovate and invest to enable employees to work remotely; build an enabling environment for personal growth; and stay connected to people. 
As with the Luzon session, Rosalyn Mesina of UN Women introduced the Women Empowerment Principles, which A self-assessment and action planning tool. Companies can download for free.  And MBC and UN Women invited the Visayas participants to take part in their Gender Diversity in Philippine C-Suite study, which aims to  identify the different factors that support or hinder women in their path to leadership.