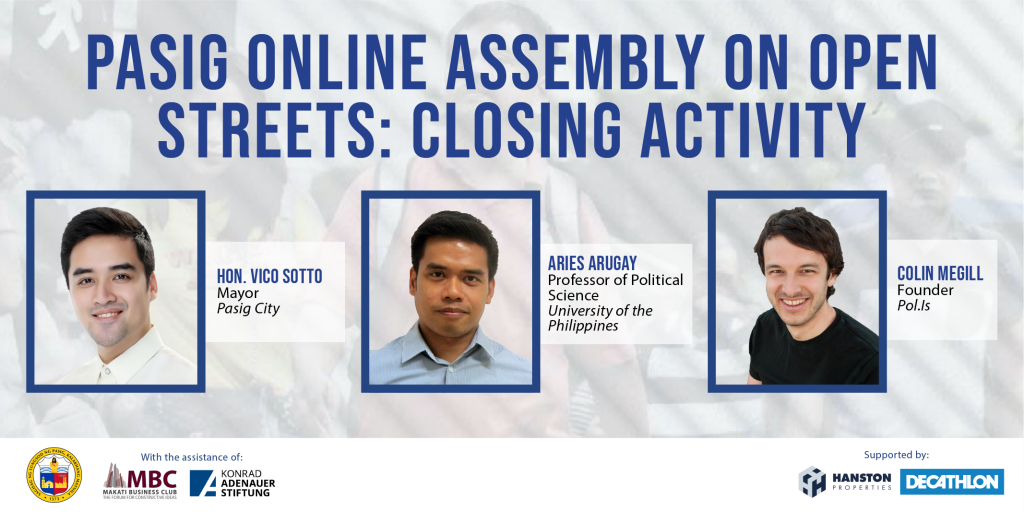 23 October 2020 – Mayor Vico Sotto delivered remarks and took citizen questions at the closing activity of an Open Streets online consultation in Pasig. Open Streets is an initiative to turn low-traffic streets into biking, walking, retail and restaurant areas to allow for safe social activity and livelihood during COVID-19. The results: Pasiguenos agree with Open Streets as a safe and socially-distant way to accommodate a bigger number of pedestrians and cyclists under COVID-19. 
In the course of a week and a half, over 500 Pasig residents, students and workers from more than 60 organizations made their voices heard in the first AI-driven digital consultation in the Philippines. Apart from sharing their opinions on Open Streets, residents also raised concerns on traffic congestion and illegal parking through the voting platform.
Pol.is founder Colin Megill, UP Political Science Professor Aries Arugay, and Donate a Bike, Save a Job founder Gretchen Ho also spoke at the closing event.
MBC will present a full report on Pasig's Online Assembly on Open Streets on 13 November 2020.