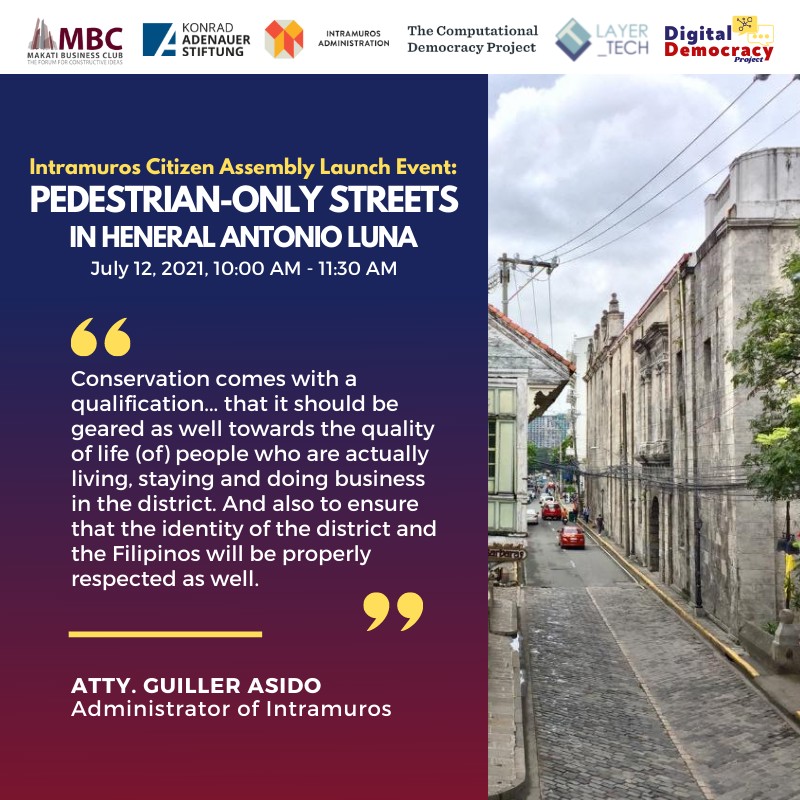 Intramuros is an award-winning tourist attraction and a monument to the history of the Filipino people. The Intramuros Administration is considering turning Heneral Luna into a Pedestrian-only street to preserve the integrity of the ancient buildings and encourage tourism. Before they decide on a policy, the Intramuros Administration is gathering public opinion through an online citizen assembly.  
In a joint project with Makati Business Club (MBC) and Konrad Adenauer Stiftung (KAS), the Intramuros Administration asks residents and visitors what they think about turning General Luna into a Pedestrian-only zone. By clicking on this link (https://pol.is/2yyrtwkpxt) and voting, citizens can provide insights to the Intramuros Administration which will inform their approach in rolling out this initiative.
The opening ceremony of the citizen assembly was held on July 12, 2021 with a keynote address from Atty. Guiller Asido, Administrator of Intramuros. He explained that "Conservation comes with a qualification… that it should be geared as well towards the quality of life (of) people who are actually living, staying and doing business in the district. And also to ensure that the identity of the district and the Filipinos will be properly respected as well."
Pedestrian-only streets are streets or roads where motor vehicles are not allowed to enter or pass through. In these streets, only walking, cycling, light electric vehicles and pedicabs are allowed. Motor vehicle traffic is not permitted unless it is an emergency vehicle. Atty. Vhincent Cañares from the Urban Planning & Community Development Division of Intramuros explained the mobility and implementation plan developed for Intramuros – with a focus on pedestrianization.
Certificates will be provided. Attend the closing event: