MBC, Pasig Transport launched the Citizen Assembly for Workers: How can we help more people bike to work?
03 August 2022 – Last July 11, Pasig Transport, in cooperation with Makati Business Club (MBC) and Konrad Adenauer Stiftung (KAS), launched the opening event of the online Citizen Assembly – "How can we help more people bike to work?" The citizen assembly, which runs from July 11 to August 11, aims to find out how the Pasig City Government can make workers' bicycling commute easier amid rising oil prices.
Robert Anthony Siy, Head of the Pasig City Transport Office emphasized in his keynote speech that "whether we like it or not, whether we acknowledge it or not, cycling and people on bikes, people who bike to work, and people who bike for work are already driving our economy." He also encouraged participants to vote together on the issue through Pol.is, a software introduced to the Philippines by MBC in 2020.
Cycling advocates, Levi and Sara Cycle also shared their commute experiences in the Philippines and abroad, and debunked commonly held misconceptions about biking. Dr. Daniel Schmueking, Interim Country Director of Konrad Adenauer Stiftung Philippine Office lauded the initiative of MBC and Pasig Transport to empower citizen participation on a critical issue. He also stressed the importance of providing bike-friendly infrastructure as "cities are made for humans, not for cars."
Citizens can still vote on the issue until August 5 via this link: pol.is/3ukfvdyknh. After the three-week voting period, a closing event will be held on August 11, 2022 (Thursday) to gather feedback from invited workers and advocates.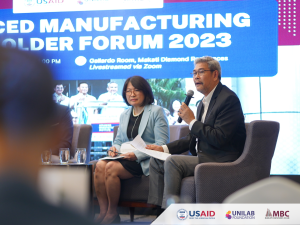 The First Advanced Manufacturing Stakeholder Forum Previous Next 19 September 2023 –The Advanced Manufacturing Stakeholder Forum discussed strategies to strengthen the workforce and address the
Read More »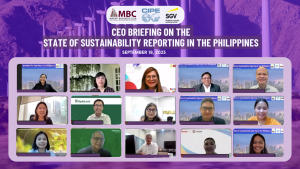 The State of Sustainability Reporting in the Philippines 20 September 2023 –The Makati Business Club (MBC) recently held a CEO briefing last September 18, 2023
Read More »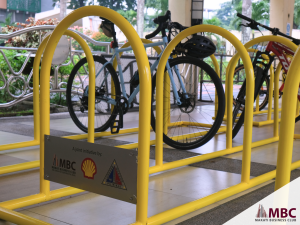 MBC and Shell Pilipinas Corporation Turnover 24 Bike Racks to Quezon City LGU, Benefiting 56 cyclists MBC, Shell, and QC Representatives were present for the
Read More »