MBC partners with Pilipinas Shell to Promote Active Mobility
30 August 2022 – Pilipinas Shell Petroleum Corporation signed up as a main partner in Makati Business Club's Business For Biking Program, which aims to support bike commuters — and the businesses they work for and patronize — via infrastructure and policy initiatives. Pilipinas Shell Country Head Lorelie Quiambao-Osial and MBC Chairman Edgar O. Chua signed the agreement.
The Business For Biking Program was launched by MBC in January 2021 with generous funding from the Embassy of the Netherlands. The program engages with government, business, and civil society organizations to develop a bike-friendly environment across the Philippines. 
This partnership helps MBC continue engaging with government, businesses, and advocacy groups to promote active and sustainable transportation, with bike-friendly infrastructure initiatives and other activities down the pipeline. MBC included biking in its ongoing discussions with new cabinet secretaries, particularly the Department of Transportation and the Department of Public Works and Highways.
"MBC is thrilled to work with Pilipinas Shell on projects that will help ease bike commuter woes. We share Shell's vision to reduce net zero carbon emissions. We hope to develop a safe, inclusive and sustainable environment for Filipinos who bike to work and for whom biking is work to help mobilize the workforce and boost economic recovery," said MBC Chair Edgar Chua.
"At Shell, we are committed to promoting inclusive and sustainable mobility solutions. Through this partnership, we are excited to work with like-minded groups to help move the Philippines forward," said Pilipinas Shell President and CEO Lorelie Osial. 
Take part in MBC's Business For Biking Initiatives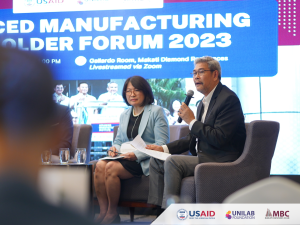 The First Advanced Manufacturing Stakeholder Forum Previous Next 19 September 2023 –The Advanced Manufacturing Stakeholder Forum discussed strategies to strengthen the workforce and address the
Read More »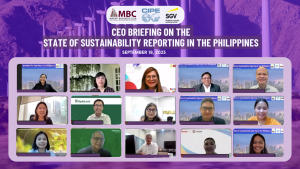 The State of Sustainability Reporting in the Philippines 20 September 2023 –The Makati Business Club (MBC) recently held a CEO briefing last September 18, 2023
Read More »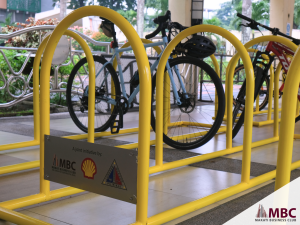 MBC and Shell Pilipinas Corporation Turnover 24 Bike Racks to Quezon City LGU, Benefiting 56 cyclists MBC, Shell, and QC Representatives were present for the
Read More »