MBC Supports DOE Sec. Lotilla's and ERC Chair Dimalanta's Policies to Attract Investment to Ensure Supply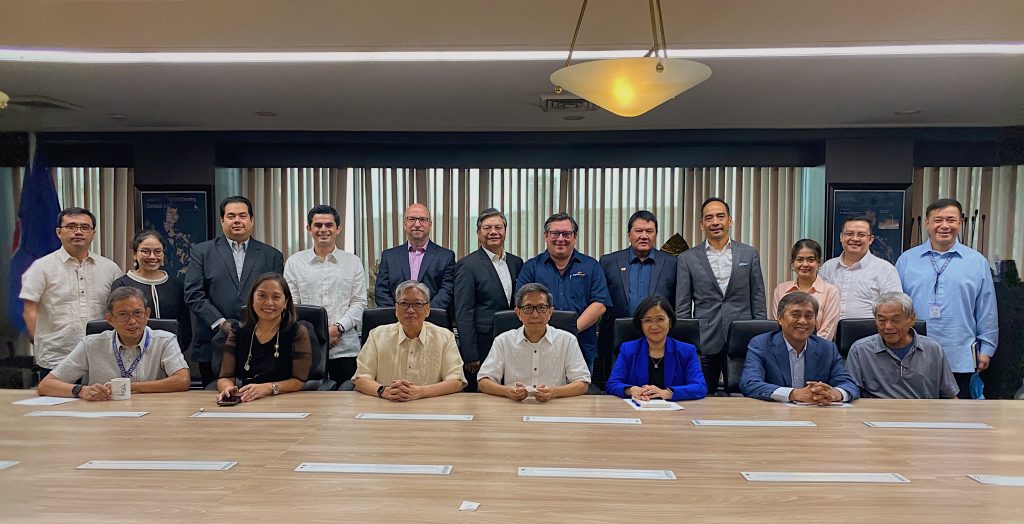 5 October 2022 – Makati Business Club supports DOE Secretary Popo Lotilla, ERC Chair Monalisa Dimalanta, and Transco President Dr. Rowena Guevarra in their efforts to build up the transparent, competitive, and performance-based environment the Philippines needs to attract investment in much-needed generating, transmission, and distribution capacity.
"The country is facing a myriad of problems relating to energy, which is always subject to political, economic, and other headwinds," MBC Chairman Edgar Chua said after a group of MBC members met with Sec. Lotilla on October 5. "Sec. Lotilla, Chair Dimalanta, and Dr. Guevarra are taking the right steps to ensure we have the energy to maintain recovery, accelerate growth, and provide more jobs and better lives for all Filipinos."
Chua said MBC welcomed recent DOE appointments, led by Rep. Sharon Garin, former Rep. Felix William (Wimpy) Fuentebella, Giovanni Carlo Bacordo, and Alessandro Sales.
 "We are excited that Rep. Garin, former Rep. Fuentebella, former Chief of the Navy Bacordo and former Philodrill executive Sales will bring their knowledge and experience to the energy challenge thus ensuring the chances that the right policies and decisions are pursued to power the government's economic plans," Mr. Chua said. 
The meeting followed recent DOE and ERC decisions to uphold power supply contracts, approve the takeover of the Malampaya gas project, and increase the renewable energy requirement in the power mix.
Joining Sec. Lotilla in the meeting were Undersecretaries Garin, Fuentebella, Giovanni Carlo Bacordo, and Alessandro Sales.
With Mr. Chua were Alternergy Chairman and former Energy Secretary Vicente Perez, Petron President Lubin Nepomuceno, Shell Country Head Lorelie Osial, Aboitiz Power President Emmanuel Rubio, Aboitiz Power Chief Commercial and Stakeholder Engagement Officer Danel Aboitiz, ACEN Director Jaime Alfonso Zobel de Ayala, ACEN Chief Development Officer Jose Maria P. Zabaleta, Vivant Energy President Emil Andre Garcia, Semirara Mining & Power Chairman and CEO Isidro Consunji, and MBC Board Member and DOE Advisor Jose Carlitos G. Cruz.
Sec. Lotilla is the 10th new government official MBC has met since the election of President Ferdinand Marcos Jr. MBC also met House Speaker Ferdinand Martin Romualdez, Finance Secretary Ben Diokno, NEDA Sec. Arsenio Balisacan, DTI Sec. Alfredo Pascual, DOLE Sec. Bienvenido Laguesma, DOTr Sec. Jaime Bautista, DPWH Sec. Manuel Bonoan, DBM Sec. Amenah Pangandaman, and BIR Commissioner Lilia Guillermo. (For more, see: Working With the Government.) (END)
(Updated an earlier version by adding Transco President in paragraphs 1 and 2. Some edits in paragraph 4.)
Working with the Government
From June to October 2022, the Makati Business Club (MBC) reached out and met with key economy managers from different government departments and offices – such as BSP, BIR, DOF, DOLE, DOTr, DPWH, DTI, HOR, DOE, QC and Pasig LGUs – to discuss the priorities of the offices and offer the support of the business sector.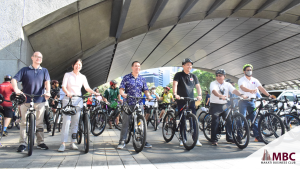 Philippine Business, Government, and Diplomatic Corps Call for Safer Bike Lane Networks and Bike-Friendly Policies Nationwide 27 November 2022 – On National Bicycle Day, a
Read More »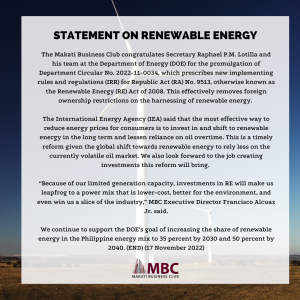 Statement on Renewable Energy 17 November 2022 — The Makati Business Club congratulates Secretary Raphael P.M. Lotilla and his team at the Department of Energy
Read More »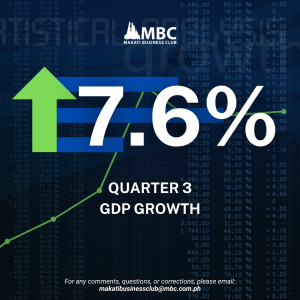 PH Grows by 7.6% in Q3 The Philippines grew by 7.6% in the 3rd quarter, maintaining the country's recovery trajectory for the past 5 quarters.
Read More »