DOLE: Apprenticeship Bill, Upskilling Programs
Are First Steps to Achieving Job Competitiveness
15 May 2023 – Makati Business Club pledged to support DOLE Sec. Bienvenido Laguesma's efforts to persuade Congress to pass an Apprenticeship Bill that will help Filipinos get the skills for better jobs while protecting worker rights.
"We fully support this bill and we hope to submit a full, comprehensive version that already includes inputs from the House and Senate," Laguesma said "an MBC membership meeting on May 12 at Makati Diamond Hotel. "We're actively participating in the Committee, providing technical inputs, and in the International Labor Conference, to know how other countries implement their [apprenticeship] programs and identify what are apprenticeable occupations."
"We believe these [amendments] will be a game-changer in tapping the private sector to upskill the workers to make them and the country compete better for jobs, investment, and growth," MBC Chairman Edgar O. Chua said.
MBC and other business groups have long advocated amending Labor Code provisions on apprenticeship to enable businesses to provide better training while preserving worker rights, helping more Filipinos qualify for and get more and better jobs. Proposed amendments would include longer training periods, as practiced in some of the most worker-friendly countries in the world. Some labor groups are concerned this would be used to skirt regularization laws.
The House of Representatives passed its apprenticeship bill, HB 6523, in December. Several bills are under consideration in the Senate Labor and Employment Committee chaired by Sen. Jinggoy Estrada.
"From the moment he was named Secretary, he made very clear that policy needs to balance the concerns of workers and of employers," MBC Chairman Edgar O. Chua noted this in his opening remarks. "Within months of taking office, he revised the IRR of the Telecommuting Act and supported other policy changes that kept jobs flexible – protecting jobs by keeping the Philippines competitive."
Laguesma said the government is also expanding three other employment-bridging programs targeted at the youth. These are th Government Internship Program, JobStart, and Special Program for Employment of Students.
MBC also introduced to Sec. Laguesma and it's members the Advanced Manufacturing Workforce Development Program, which aims to create a highly-skilled and adaptive workforce to meet the demands of the growing advanced manufacturing sector. "AMDev" is a 5-year program led by Unilab Foundation and funded by USAID.
Sec. Laguesma expressed his approval.
"We cannot do it alone," the Secretary said. "It's not the government that creates jobs, you are the ones creating jobs. We are to provide the enabling environment conducive to investment and continuity, and we are committed to doing our share for the businesses that create these jobs."
The meeting was the fifth session in MBC's F2F With Cab Secs series, featuring key economic officials and brought to you by ACCIONA, SM Investments Corp., and SteelAsia. This series is part of MBC's contribution to deepening public-private dialogue and collaboration. The next guest for this series is DICT Secretary Ivan John Uy in July 2023.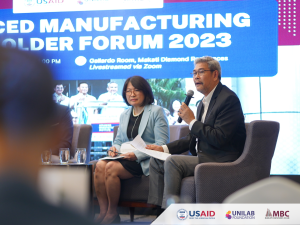 The First Advanced Manufacturing Stakeholder Forum Previous Next 19 September 2023 –The Advanced Manufacturing Stakeholder Forum discussed strategies to strengthen the workforce and address the
Read More »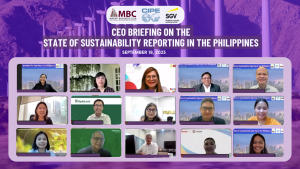 The State of Sustainability Reporting in the Philippines 20 September 2023 –The Makati Business Club (MBC) recently held a CEO briefing last September 18, 2023
Read More »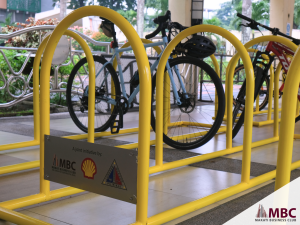 MBC and Shell Pilipinas Corporation Turnover 24 Bike Racks to Quezon City LGU, Benefiting 56 cyclists MBC, Shell, and QC Representatives were present for the
Read More »