The First Advanced Manufacturing
Stakeholder Forum
19 September 2023 –The Advanced Manufacturing Stakeholder Forum discussed strategies to strengthen the workforce and address the problems of unemployment and job-skills mismatch in the manufacturing sector.
AMDev Breakfast Meeting:
Key stakeholders and alliance members discussed multisectoral initiatives that creates an inclusive and diverse pathways for Filipinos to join the workforce.
The meeting was attended by Congressman Roman Romulo of EdCom2, TESDA Deputy Director General Rosanna Urdaneta, PSAC Senior Economic and Research Specialist, Rachael Morala, USAID's outgoing Director for Education Thomas LeBlanc, and incoming Director for Education Michelle Chen.
First Advanced Manufacturing Stakeholder Forum 2023:
Unilab Foundation, USAID, and MBC launched the first Advanced Manufacturing Stakeholder Forum featuring USAID Philippines' Thomas LeBlanc, Unilab Foundation's Lilibeth Aristorenas and Dan Lachica, Action for Economic Reforms' Atty. Nepomuceno Malaluan, Integrated STEM Education's Dr. Gonzalo Serafica, DTI's Usec Fita Aldaba, TESDA's El Cid Castillo, Western Digital Philippines' Chandra Anamirtham, Fastech's Allan Timonera, Bayan Innovation Group's Carlo Sagun, MBC's Francisco Alcuaz, Jr. and AMSC's Patricia Siriban.
The Advanced Manufacturing Stakeholder Forum highlighted key leaders from USAID and Unilab Foundation. The key presenters and panelists talked about advanced manufacturing as a key driver to the Philippine economy and how the workforce development is crucial to the growth and competitiveness of the manufacturing sector
About the AMDev Program:
The USAID-AMDev Program is a 5-year, USAID- and Unilab Foundation-led initiative to develop the advanced manufacturing workforce in the Philippines. The $10 Million Program is expected to directly and indirectly benefit over 3 million manufacturing workers in the Philippines. MBC currently serves as the secretariat and is expected to sustain AMDev's efforts beyond the program's timeline.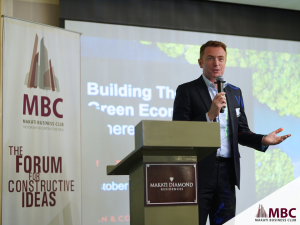 Bain: PH Can Better Achieve Decarbonization Targets Through Strengthened Public-Private Partnerships 26 October 2023 – Bain & Company said increased public-private collaboration in the Philippines
Read More »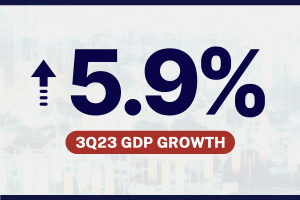 PH Economy Picks up at 5.9%, Accelerated Faster than Expected 9 November 2023 — Philippine economic growth accelerated faster than anticipated to 5.9% in the
Read More »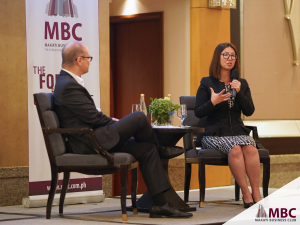 PH-AUS partnership talked about during MBC meeting with AUS Ambassador, Increased bilateral trade and investment opportunities 24 October 2023 – Australian Ambassador, H.E HK Yu
Read More »