By: Guillermo M. Luz
I have just returned from New Zealand where I attended the first meeting in 2018 of the Apec Business Advisory Council (Abac). We meet quarterly to discuss policies and programs recommended by the business community.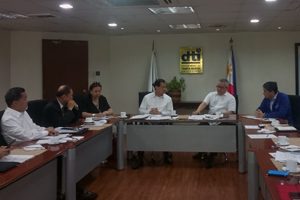 6 December 2017 – ABAC (APEC Business Advisory Council) Philippines renewed its commitment towards achieving inclusive growth in the Asia-Pacific region, especially in the Philippines.
This move came as ABAC, in their annual Report to Leaders, called on APEC Leaders to further liberalize trade in goods and services as well as investment flows. Business representatives in the region recommended to their government leaders to tackle structural reforms and non-tariff barriers, encourage cross-border investment and to make the Free Trade Area of the Asia-Pacific a reality.
20 March 2017 – Asia Pacific business leaders must communicate more effectively the benefits of globalization and address its adverse impacts, according to members of the APEC Business Advisory Council (ABAC) who met last February 19-23 for its first meeting in 2017 in Bangkok, Thailand.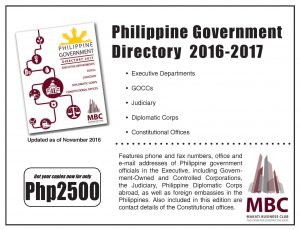 Get your Philippine Government Directory 2016-2017 for Php2500 and you will receive a special supplement of updated contact details for free.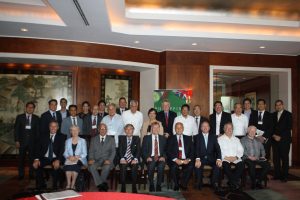 25 August – British Prime Minister's newly-appointed Trade Envoy to the Philippines Richard Graham MP met with the Philippine and British private sector at a luncheon meeting on 25 August 2016 jointly organised by the British Chamber of Commerce of the Philippines, the Philippine-British Business Council (PBBC), and the Makati Business Club.