The MBC Conversations: Leading in Extraordinary Times Series
had top Philippine CEOs candidly share their pandemic-era
challenges and successes to inspire fellow leaders in the
country's fight for recovery.
MBC is honored to partner with the Konrad Adenauer Stiftung in bringing leading democracy advocates and activists to Philippine audiences. While MBC's founders believe that freedom and democracy are essential to improving Philippine lives, KAS has been promoting these ideals around the world for 65 years.
For most of the histories of MBC and KAS, democracy and freedom had been gaining ground. But starting about a decade ago, they have faced stronger and stronger challenges. The challenges are fed by many issues — such as wide income and wealth gaps, and a perception of weak leadership.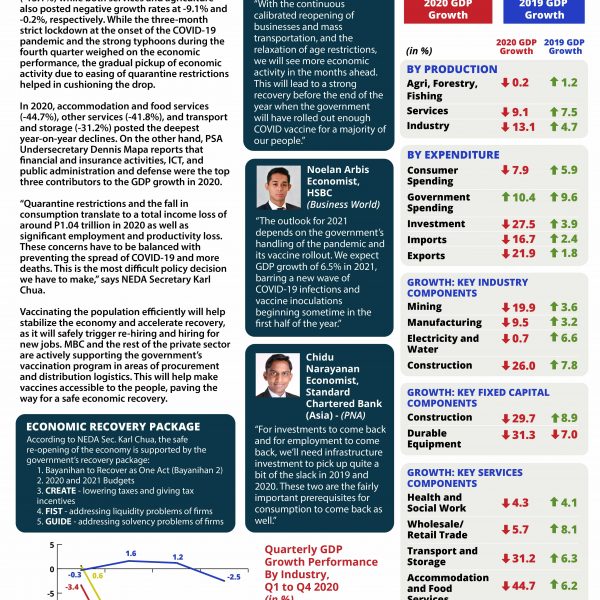 The Philippines posted a -8.9% fourth quarter GDP growth rate, bringing the overall economic performance to -9.5% in 2020. On an annual basis, industry posted the largest contraction (-13.1%) while both services and agriculture also posted negative growth rates at -9.1% and -0.2%, respectively.
The Philippine economy slumped 11.5% in the third quarter, slower than the 16.9% (revised) drop in the previous quarter. While the growth rate remains negative, from a quarter-on-quarter basis the economy has actually grown by 8%.
The forum is part of a project to help with digitalization, financial inclusion, and the transition to the New
Normal. The project aims to facilitate more public-private collaboration as well as accelerate the private
sector's switch in everything from salaries, to benefits, to sales of goods and services between people,
businesses, and government, and, when it's ready, to e-invoicing and e-receipts.