MBC organized a briefing on government's COVID-19 spending based on the research of the Citizen's Budget Tracker project for embassies and international partners. Ken Abante, a former DOF chief of staff, leads the project and gave the briefing.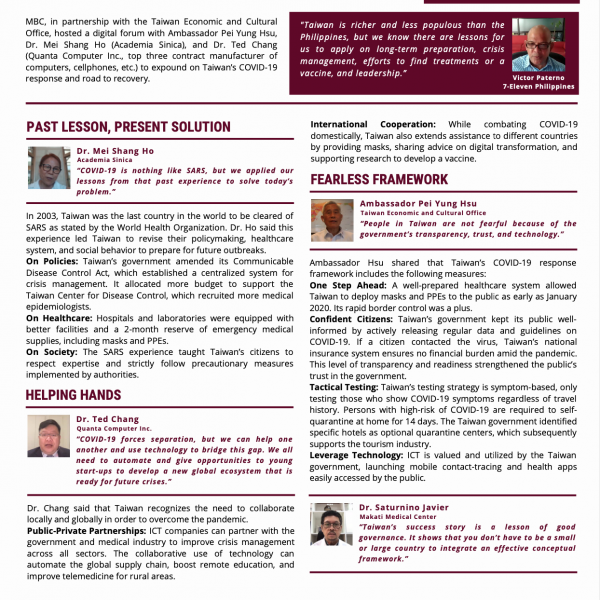 MBC, in partnership with the Taiwan Economic and Cultural Office, hosted a digital forum with Ambassador Pei Yung Hsu, Dr. Mei Shang Ho (Academia Sinica), and Dr. Ted Chang (Quanta Computer, top three contract manufacturer of computers, cellphones, etc.) to expound on Taiwan's COVID-19 response and road to recovery.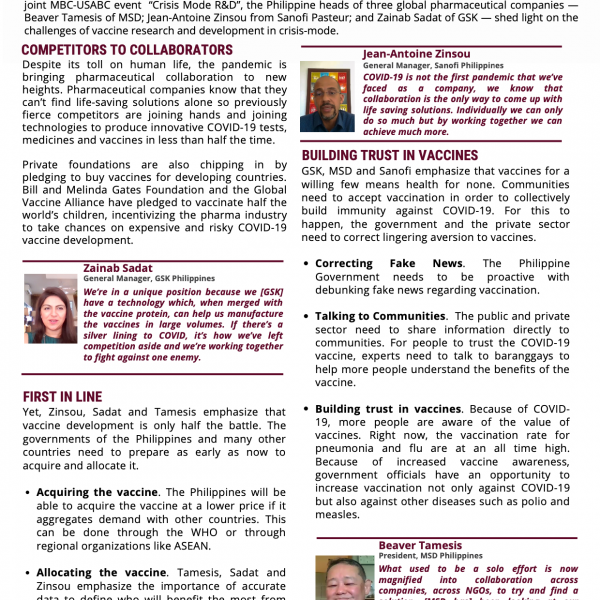 As the number of COVID-19 cases hits 5.4 million globally, the race is on to find treatments and a vaccine. At the joint MBC-USABC event "Crisis Mode R&D", the Philippine heads of three global pharmaceutical companies — Beaver Tamesis of MSD; Jean-Antoine Zinsou from Sanofi Pasteur; and Zainab Sadat of GSK — shed light on the challenges of vaccine research and development in crisis-mode.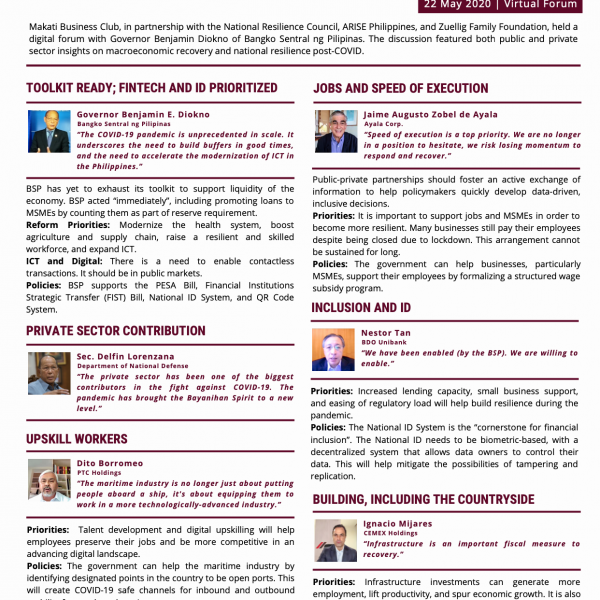 Makati Business Club, in partnership with the National Resilience Council, ARISE Philippines, and Zuellig Family Foundation, held a digital forum with Governor Benjamin Diokno of Bangko Sentral ng Pilipinas. The discussion featured both public and private sector insights on macroeconomic recovery and national resilience post-COVID.
At the MBC Roundtable "Good Company: How Executives Lead their Business and Society Amid Crisis", Deloitte's Rahim Damanwala discussed the big role the private sector is playing as government struggles with the unprecedented COVID-19 crisis.