MAKATI CITY, Philippines, May 16, 2018 – The Makati Business Club (MBC) and the Philippine Business Coalition for Women Empowerment (PBCWE) announced their partnership to jointly conduct an evidence-based research on the real state of gender diversity in the top management level of Philippine corporations. The MBC-PBCWE research and advocacy project entitled, "Addressing the Leaking Pipeline in the Philippines (ALPP): Evidence-based Advocacy for Gender Diversity in the C-Suite," also seeks to provide manageable and realistic solutions for companies to attain gender diversity in top executive levels.
8 May 2018 – The Makati Business Club hosted a special roundtable discussion with Vice President Leni Robredo and a small group of business executives to discuss the most pressing employment and skills development issues the country faces today.
China can fund at least 50 possible Philippine projects but the country needs a strategy to be part of the multi-trillion-dollar "Belt and Road Initiative" (BRI), a Hong Kong business leader said amid concerns that the Philippines will be left out the ambitious plan.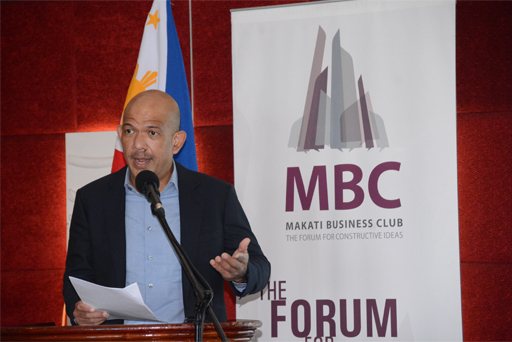 7-Eleven Philippines chief Victor Paterno pitched not one but two ambitious plans when he addressed the Makati Business Club in March. The first is a plan to roll out community-based drug rehabilitation programs, working with police and local leaders to curb drug-related deaths by getting communities certified as drug-free zones.
The second is a proposal to finance the plan in start-up fashion, with investors coming in at several phases in venture-capital style.
The Makati Business Club calls on the country's political and judicial leaders to let the House of
Representatives and, if so determined, the Senate follow the impeachment process set forth in the
Constitution against Chief Justice Maria Lourdes Sereno. Regardless of the outcome of the process,
giving the chief justice the chance to defend herself within our constitutionally-defined process is
essential to demonstrate this country's respect for the rule of law and to assure all Filipinos that we are
protected by our laws.