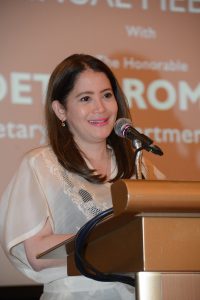 19 June 2018 – Secretary Bernadette Romulo-Puyat said the country must push for "sustainable tourism and responsible tourists," which she says will be the "overarching theme" of her leadership at the Department of Tourism.
SIX business groups have asked the government's economic agencies to review the economic and budgetary implications of the change in government system to a federal structure.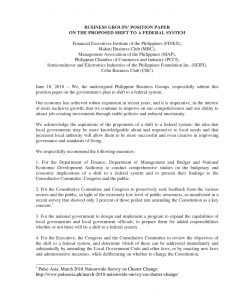 June 18, 2018 –We, the undersigned Philippine Business Groups, respectfully submit this position paper on the government's plan to shift to a federal system.
Our economy has achieved robust expansion in recent years, and it is imperative, in the interest of more inclusive growth, that we continue to improve on our competitiveness and our ability to attract job-creating investments through stable policies and reduced uncertainty.
MAKATI CITY, Philippines, May 16, 2018 – The Makati Business Club (MBC) and the Philippine Business Coalition for Women Empowerment (PBCWE) announced their partnership to jointly conduct an evidence-based research on the real state of gender diversity in the top management level of Philippine corporations. The MBC-PBCWE research and advocacy project entitled, "Addressing the Leaking Pipeline in the Philippines (ALPP): Evidence-based Advocacy for Gender Diversity in the C-Suite," also seeks to provide manageable and realistic solutions for companies to attain gender diversity in top executive levels.
8 May 2018 – The Makati Business Club hosted a special roundtable discussion with Vice President Leni Robredo and a small group of business executives to discuss the most pressing employment and skills development issues the country faces today.