To mitigate the spread and impact of the COVID 19 virus, the government acted decisively and placed Luzon under severe quarantine measures starting March 17, 2020. In line with ensuing directives on the enhanced community quarantine (ECQ) in Metro Manila, NCRPO chief Maj. Gen. Debold Sinas declared that – "We will arrest those who will not follow the guidelines".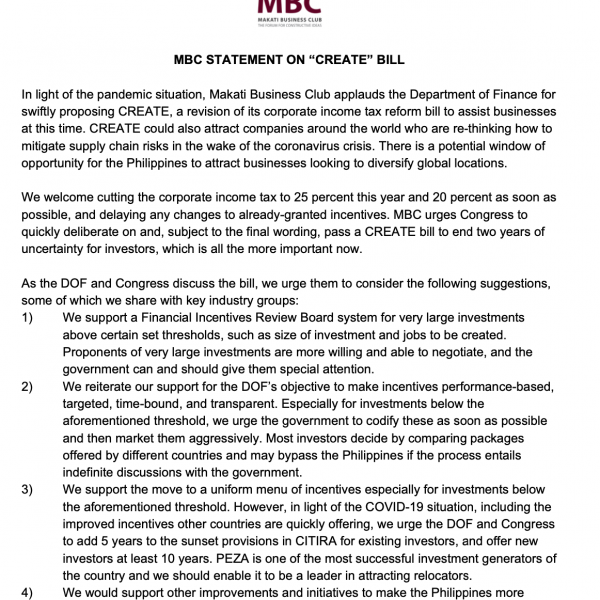 In light of the pandemic situation, Makati Business Club applauds the Department of Finance for swiftly proposing CREATE, a revision of its corporate income tax reform bill to assist businesses at this time. CREATE could also attract companies around the world who are re-thinking how to mitigate supply chain risks in the wake of the coronavirus crisis. There is a potential window of opportunity for the Philippines to attract businesses looking to diversify global locations.
We, the undersigned, thank the honorable congressmen authors of House Bill No. 6623 in their efforts to institute public health and safety standards to prevent the transmission of the COVID-19 or novel coronavirus (nCOV). We support the protection of vulnerable groups while at the same time, "ensuring the restoration of livelihood opportunities and sources of income for all, especially the country's poor." Allow us to offer our comments on House Bill No. 6623, known as the "New Normal for the Workplace and Public Spaces Act of 2020."
MBC expresses its concern that the shutdown of ABS-CBN Corp.'s broadcast operations will be a blow to press freedom, which is a pillar of democratic societies such as ours.
On the occasion of Labor Day, Makati Business Club expresses our gratitude and respect to our countrymen and women in essential industries who are exposing themselves to risk during this COVID-19 pandemic.