March 23, 2020 We, the undersigned organizations, thank the Administration and Congress for quickly starting official deliberations today on the proposed "Bayanihan Act of 2020" and  its counterpart bill in the Senate known as "We Heal as One Act" that are specially designed to help the country aggressively combat the COVID-19 pandemic and address its […]
The undersigned business organizations support the call of President Rodrigo Roa Duterte to call congress to a special session to pass a supplemental budget to respond to the COVID-19 pandemic and its economic effects.
Makati Business Club supports the measures the national and local governments are taking to fight the COVID-19 pandemic. We acknowledge their decisions have to take into account saving lives and at the same time preserving livelihoods, contending with our limited resources, and racing against the quickening spread of the virus. We acknowledge review and revision will be needed, including to ensure people can make a living or receive assistance, and food and other goods can move in a timely manner.
The undersigned organizations express full support to our dedicated public and private sector health workers and first-responders who serve at the frontlines of the battle agains the outbreak of the COVID-19 epidemic. We thank these dutiful men and women who work tirelessly in selfless anonymity to keep us safe, protected and informed, even as they […]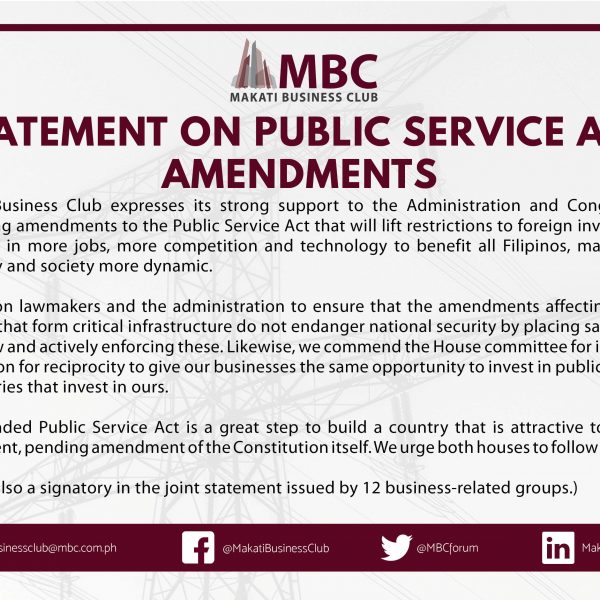 Makati Business Club expresses its strong support to the Administration and Congress for advancing amendments to the Public Service Act that will lift restrictions to foreign investment, resulting in more jobs, more competition and technology to benefit all Filipinos, making our economy and society more dynamic.