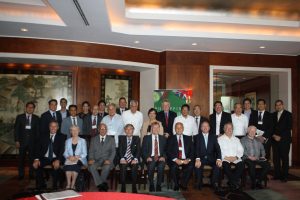 British Prime Minister's newly-appointed Trade Envoy to the Philippines Richard Graham MP met with the Philippine and British private sector at a luncheon meeting on 25 August 2016 jointly organised by the British Chamber of Commerce of the Philippines, the Philippine-British Business Council (PBBC), and the Makati Business Club. In partnership with the British Embassy in Manila, the meeting created a platform for the Trade Envoy to directly engage local businessmen and the growing British business community in the Philippines, and convey his assurance of a sound Philippine-British economic relationship.
Also joining the business communities was Philippine Trade and Industry Secretary Ramon Lopez, who presented the Administration's 10-Point Socioeconomic Agenda, emphasising the Government's initiatives in continuing the country's effective fiscal management, pushing tax reform, improving the ease of doing business, accelerating the Philippine public-private partnership (PPP) programme, and promoting micro-, small-, and medium-sized enterprise (MSME) development. Secretary Lopez highlighted the positive trajectory of Philippine-British relations, hailing the two countries' consistent growth in trade over the last administration. Its current state, however, still poses a lot of room for improvement, especially in the area of industry development, particularly for the existing and start-up MSMEs.
Trade Envoy Richard Graham warmly echoed the Secretary's sentiments and drive for the expansion of Philippine MSME base in his message. Mr. Graham also commended President Duterte's commitment to the rule of law and the sanctity of contracts and projects with the business sector, which British business fully appreciates and finds reassuring. The Trade Envoy underscored the importance of creating a sound business environment, which will better contribute to the Philippines' standing as one of the world's best investment destinations. However, it is the Trade Envoy's hopes that the Philippines would consider opening up its educational institutions to foreigners in order to better maximise the country's investment potential.
At the conclusion of the meeting, PBBC Chairman Ambassador Jesus Tambunting reiterated the Philippine business community's commitment to continue working with the present Administration in alignment with its socioeconomic agenda, as well reassured the Trade Envoy that the private sector will remain as their partners in the promotion of Philippine-British commercial partnerships.