Two days following the signing of CREATE law, the Makati Business Club held "A User's Guide to CREATE (Part 2)" featuring Atty. Alexander B. Cabrera, Chairman and Senior Partner at PwC Philippines. This is the second information session organized by MBC on the recent law.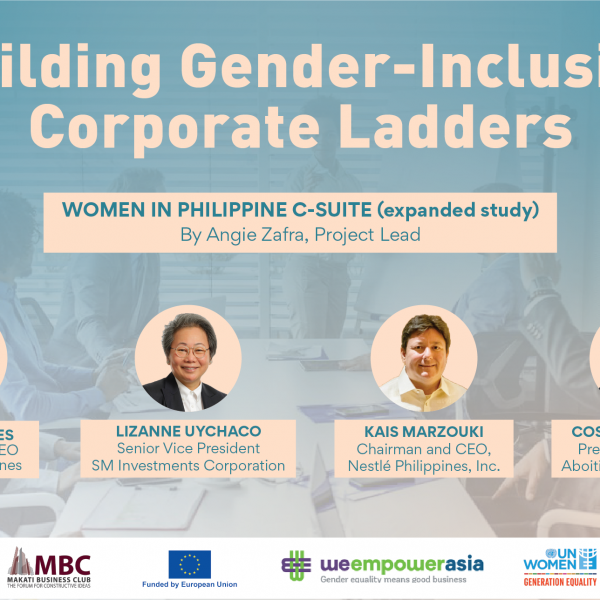 The Makati Business Club, alongside UN Women, WeEmpower Asia and the Delegation of European Union in the Philippines, hosted the launch of the 2021 "Women in the Philippine C-Suite Report (Nationwide Study) in time to cap Women's Month. The forum focused on best practices that move the needle in terms of helping more women achieve their corporate aspirations.
The webinar, entitled Moving As One: Public Private Cooperation on Active Mobility, provided a platform for public-private engagement on building bicycle-friendly businesses and communities. Jointly organized by the Department of Health – Health Promotion Bureau (DOH – HPB), the Makati Business Club (MBC), and the Move As One Coalition, it featured segments from Acting Socioeconomic Planning Secretary Karl Kendrick Chua, Assistant Secretary for Road Transport and Infrastructure Atty. Mark Steven Co Pastor, and DOH – HPB Director Dr. Beverly Lorraine Ho, as well as from transport and planning officers from the Cities of Pasig, Makati, and Manila: Mr. Anton Siy, Atty. Michael 'Don' Camina, and Arch. Dennis Lacuna, respectively.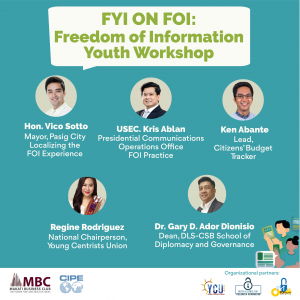 01/02 March 2021– MBC and the Center for International Private Enterprise organized a two-day FOI Youth Workshop with Pasig Mayor Vico Sotto and youth advocates and educators.
MBC conducted its second Consultation Session under the Business For Biking program in partnership with the Embassy of the Netherlands with Manila City. The consultation session was designed to foster collaboration between policymakers with local biking groups, urban planners, and other stakeholders in developing bike-friendly policies and infrastructure.