5 September 2017 – The Makati Business Club celebrated its 35 years in the business of nation-building with an intimate dinner gathering of its Members and partners at the Fairmont Hotel, Makati City.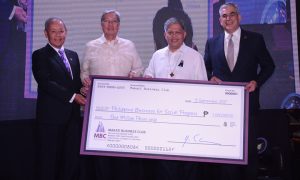 The Club used this occasion to present its support and added assistance to the Philippine Business for Social Progress (PBSP), represented by its president Br. Armin Luistro, in their efforts to rebuild and rehabilitate Marawi City. In his speech, MBC Chairman Ed Chua also encouraged MBC members to reach out to PSBP or to other organizations to support similar relief efforts. "MBC wishes to use this event to rally all our members and partners to commit, and remain committed in helping our brothers and sisters in Marawi," Mr. Chua said. As an initial support for the ongoing rebuilding efforts of PBSP in Marawi, MBC tuned over to Br. Luistro a cheque donation worth P1,000,000.
MBC also took this opportunity to thank and honor past and present leaders of MBC who have not only contributed to the organization but have made a positive, lasting mark in our nation's growth. Former MBC chairman Mr. Ramon del Rosario Jr.,and former MBC trustees, Mr. Washington Sycip, Mr. Cesar Virata and Mr. Cesar Buenventura were presented special awards for their leadership and wise stewardship of the MBC vision to be a forum for constructive ideas.