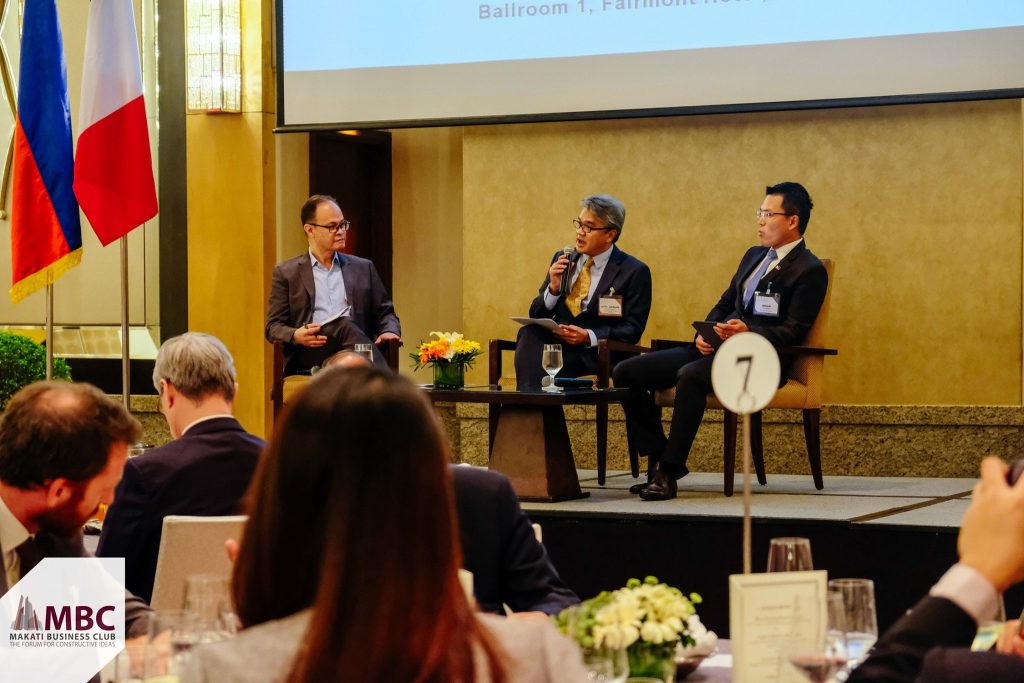 28 June 2019 – Celebrating 72 years of strong bilateral relations between France and the Philippines, the Makati Business Club and the Philippines-France Business Council, in collaboration with the French Chamber of Commerce and Industry, welcomed an inbound mission from France led by MEDEF International at a joint networking lunch and business dialogue. 
Anton T. Huang, President of Stores Specialists Inc. and Chairman of the Philippines-France Business Council, welcomed the delegation and guests by notably expressing the substantial ties between France and the Philippines over the years: "Not only do our two countries share a mutual ideal and love for liberty and democracy, but also enjoy a robust economic partnership."
François Corbin, MEDEF International's Chairman of the ASEAN Committee and General Delegate to the President for International Affairs of Michelin, shared a brief message that highlighted French interest in the "economic dynamism" that is present in the Philippines. In addition, Corbin noted that the delegation was impressed with the infrastructure projects under the "Build, Build, Build" program that they have recently visited in Clark.
Complementarily, the forum proceeded with a private sector panel discussion that revolved around the possibilities for investments and growth for the private sector in the context of the bustling infrastructure program in the Philippines. Kicking off the panel, Atty. Adrian Cristobal Jr., Vice Chair of SteelAsia Corporation and former Secretary of Trade and Industry, presented his insights on the "Golden Age of Infrastructure in the Philippines", by giving an overview of SteelAsia Corporation's contributions to various projects by supplying steel in the development of expressways in Luzon and projects in New Clark City. According to Atty. Cristobal, "The steel and construction sector is a compelling indicator of economic growth and expansion." Atty. Cristobal ended his dialogue by stating high interest for foreign investors and expansion of the steel industry. 
Brian Chen, President of Air Liquide Philippines, also shared personal experiences of his French company doing business in the Philippines. Chen noted reasons to invest in the Philippines, including the country's high gender equality rate, positive signs presented by infrastructure development, and the fact that the Philippine middle class is expected to spend more than the Italy's in 2030. Into the bargain, Chen presented a balanced discussion by also mentioning the challenges of doing business in the Philippines. With a declining foreign direct investment (FDI) inflow and inefficiencies in the "Ease of Doing Business" Act, Chen underlines how foreign investments in the Philippines are yet to improve in the upcoming years. Wrapping up the business dialogue, Chen stated his hopes for the administrations' infrastructure program in a "promising country" like the Philippines.