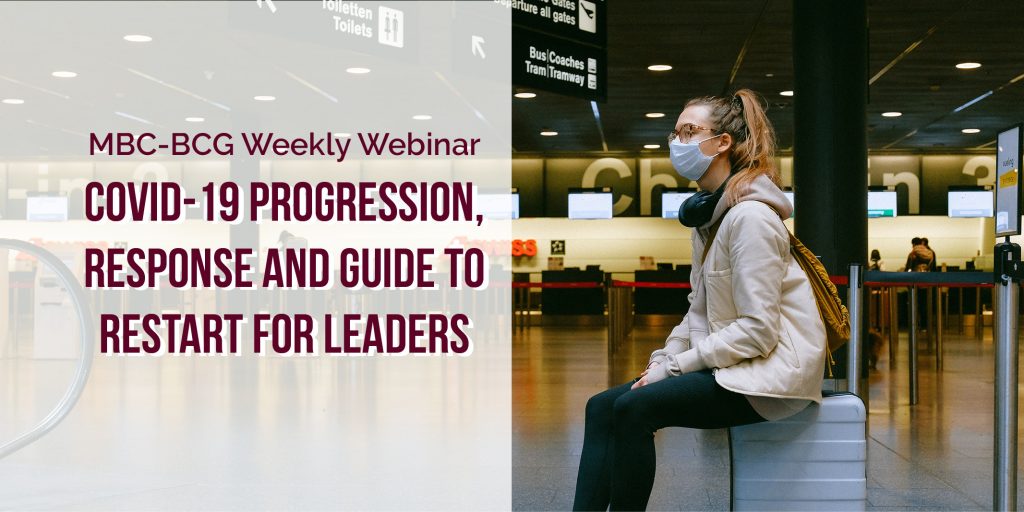 8 May 2020 – Makati Business Club and Boston Consulting Group hosted the fourth and final session of their weekly webinars which focused on how leaders can respond, revamp, and restart work beyond the crisis.
Ming Teck Kong, BCG managing director in Singapore covered the phases of COVID-19 response, actionable steps that will enable organizations to safely return to work, and thoughts on what leaders can do to get ahead.
The world is past the "flattening-the-curve" phase and is now approaching the "fight" phase as people slowly go back to their normal routines, he said. Kong said data-driven decision making will build a resilient company. It is important to rethink the value-chain, manage variabilities, and enhance value proposition and operations in order to move faster than competitors. 
As the economy reopens, Kong also presented a framework on how to safely and effectively get back to work: 1) Use data to determine when it is safe to go back, 2) Identify a first wave of employees who can and should go back to work by assessing risks and criticality, and 3) Customize work policies and infrastructure to ensure health safety and anticipate worst case scenarios. If possible, Kong recommended to sustain smart remote work by accelerating digital infrastructure and expanding digital offerings. "It is good to be smart with your digital resources. We must approach the new world with optimism and positive energy, while exercising caution and particularity," said Anthony Oundjian, Managing Director and Co-Founder of BCG Philippines.