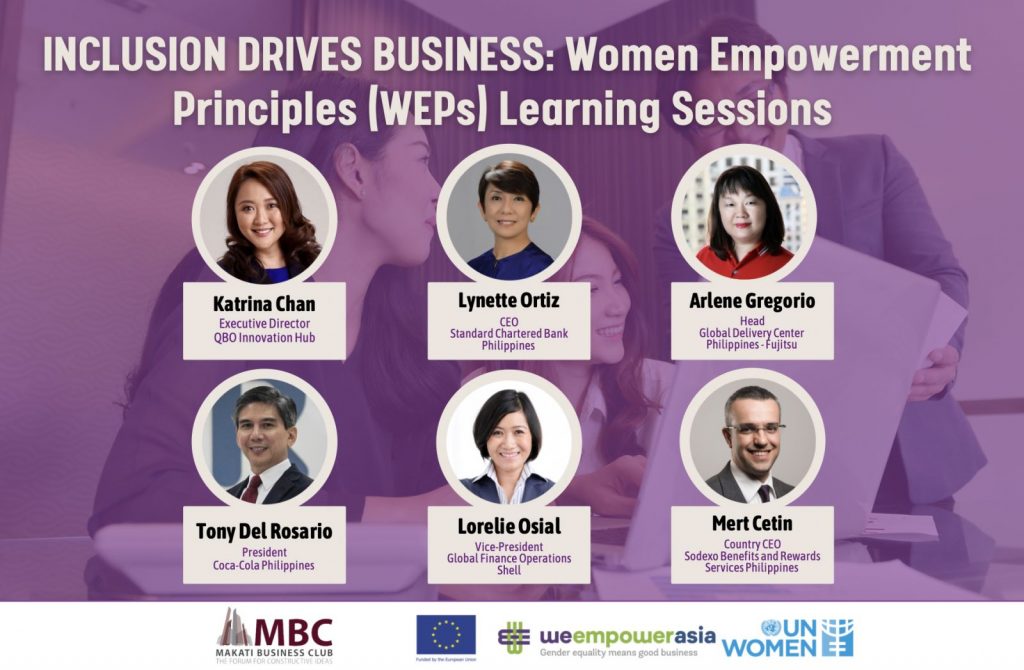 8 July 2021 – Makati Business Club (MBC), alongside the European Union (EU)-funded WeEmpower Asia of UN Women, held a three-part learning series to promote the Women's Empowerment Principles (WEPs), a set of Principles established by UN Global Compact and UN Women that offers guidance to businesses on promoting gender equality and women empowerment in the workplace, marketplace, and community.
The series, "Inclusion Drives Business: Women's Empowerment Principles (WEPs)", featured 6 top executives who shared their experiences in applying the WEPs in their organizations. The series was attended by 76 participants from various industries: 12% of whom are executives, nearly 40% managers, and around 10% HR officers.
Ms. Aileen Jiao, Country General Manager of IBM and MBC's new Women in C-Suite Committee chairperson, opened the three-day session. "Through learning sessions like these, we hope to encourage companies to review and revise gender-biased policies and programs that may have taken root in your company cultures and operations using UN WEPs as a guide," said Jiao. She adds, "As we know, crises intensify and highlight inequalities and exclusion in our society, but crises also magnify the positive impacts of inclusive actions." 
Meanwhile, Ms. Lynette Ortiz, CEO of Standard Chartered Bank Philippines, and Ms. Katrina Chan, CEO of QBO Innovation Hub, discussed the role of top executives in leading gender inclusion in companies, gender equality in workplaces, and ensuring the well-being of all employees. "I do think working in an environment that fosters inclusivity and advocates for empowerment is a first step, but at the end of the day, I do encourage women to take the driver's seat in one's career. Be purposeful, be strategic, know your stuff, work hard, speak up, and assert. Do not hesitate to speak your mind and render an opinion and make sure that your voice is heard." said Ortiz.
Ms. Arlene Gregorio, Head of Fujitsu Global Delivery Center Philippines, talked about Fujitsu's best practices on providing equal opportunities in education and training for career advancement. On the other hand, Mr. Tony Del Rosario, President of Coca-Cola Philippines, shared the many women-empowering initiatives they implement which centers on enterprise development, supply chain, and marketing practices. "In the Philippines, our 5by20 program is our flagship program, we call it "STAR". This is the sari-sari store training and access to resources program," said Del Rosario. He adds, "We work with TESDA, in particular, but many organizations provide access to training, access to resources, and access to peer mentoring for over 250,000 micro retailers. 97% of the women who went through this program really believed and thought that it was useful and helped their business. Importantly, 32% of the women feel more confident about their financial stability."
Mr. Mert Cetin, CEO of Sodexo Benefits and Rewards Services Philippines, shared the global strategy of Sodexo in implementing diversity in the community, which includes a job shadowing program and multiple gender networks. Meanwhile, Ms. Lorelie Osial, Vice-President of Global Finance Operations at Shell, shared the company's extensive efforts in measuring and reporting its diversity and inclusion performance. She highlighted the importance of setting aspiration, challenging but realistic targets in order to drive positive behavior. 
Aside from the three-day WEP series, MBC's strong partnership with the EU Delegation-UN Women programme WeEmpower Asia has produced the "Women in the Philippine C-Suite: National Study (2021)" Report which expanded the coverage  of the original "Women in the Philippine C-Suite (2019)" Report to capture the state of gender diversity in companies and businesses across Luzon, Visayas, and Mindanao. Within the past year, 4 public forums under the MBC-UN Women partnership were conducted: 3 for gender-responsive COVID-19 recovery planning for businesses and 1 to celebrate this year's Women's Month. Some top executive resource speakers in said events include Mr. Kais Marzouki from Nestle Philippines, Ms. Cosette Canilao from Aboitiz InfraCapital, and Mr. Richard Bates from Manulife Philippines.
Downloadable files of the mentioned MBC research reports can be downloaded here: