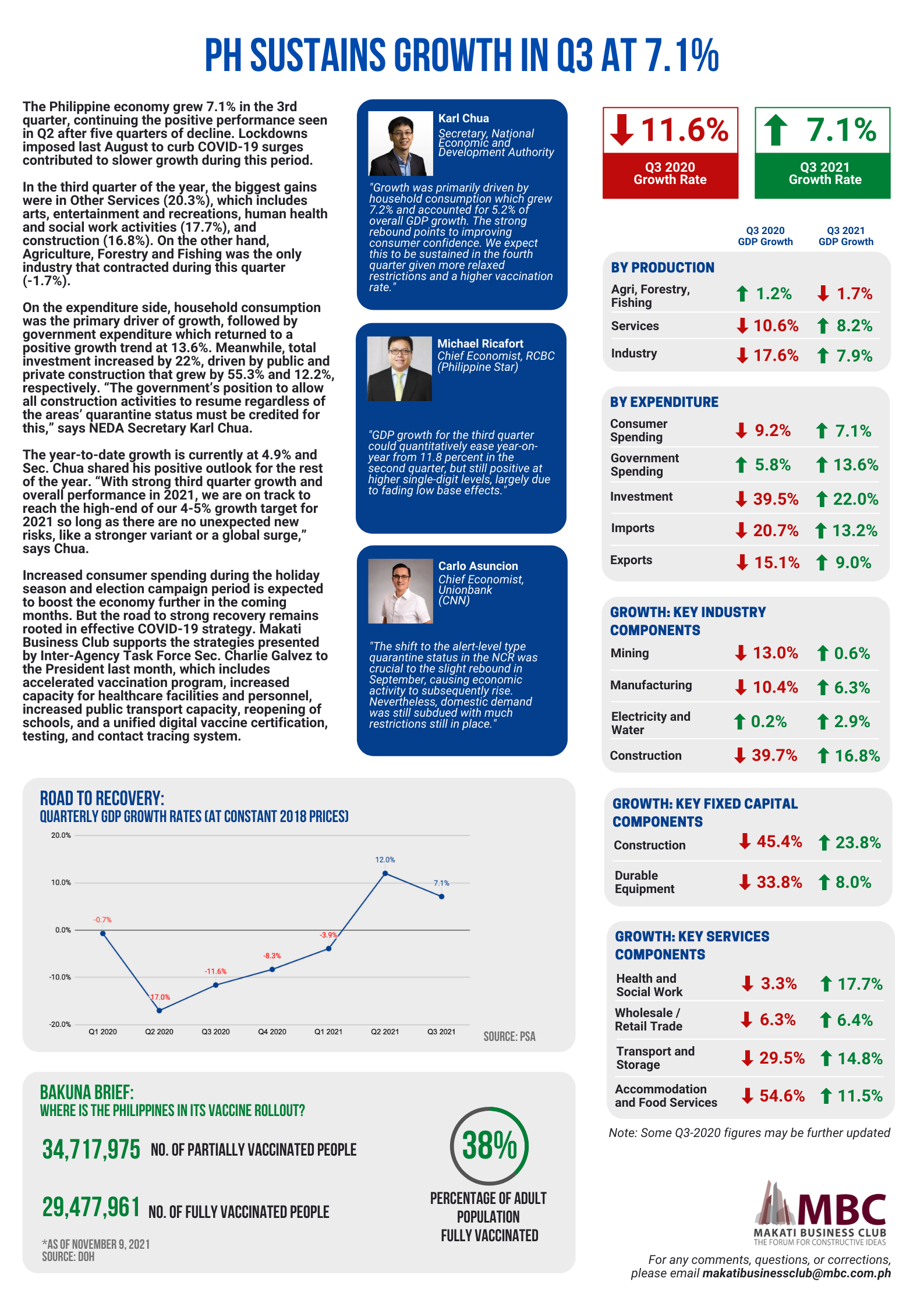 The Philippine economy grew 7.1% in the 3rd quarter, continuing the positive performance seen in Q2 after five quarters of decline. Lockdowns imposed last August to curb COVID-19 surges contributed to slower growth during this period.
In the third quarter of the year, the biggest gains were in Other Services (20.3%), which includes arts, entertainment and recreations, human health and social work activities (17.7%), and construction (16.8%). On the other hand, Agriculture, Forestry and Fisheries was the only industry that contracted during this quarter (-1.7%).
On the expenditure side, household consumption was the primary driver of growth, followed by government expenditure which returned to a positive growth trend at 13.6%. Meanwhile, total investment increased by 22%, driven by public and private construction that grew by 55.3% and 12.2%, respectively. "The government's position to allow all construction activities to resume regardless of the areas' quarantine status must be credited for this," says NEDA Secretary Karl Chua.
The year-to-date growth is currently at 4.9% and Sec. Chua shared his positive outlook for the rest of the year. "With strong third quarter growth and overall performance in 2021, we are on track to reach the high-end of our 4-5% growth target for 2021 so long as there are no unexpected new risks, like a stronger variant or a global surge," says Chua.
Increased consumer spending during the holiday season and election campaign period is expected to boost the economy further in the coming months. But the road to strong recovery remains rooted in effective COVID-19 strategy. Makati Business Club supports the strategies presented by Inter-Agency Task Force Sec. Charlie Galvez to the President last month, which includes accelerated vaccination program, increased capacity for healthcare facilities and personnel, increased public transport capacity, reopening of schools, and a unified digital vaccine certification, testing, and contact tracing system.