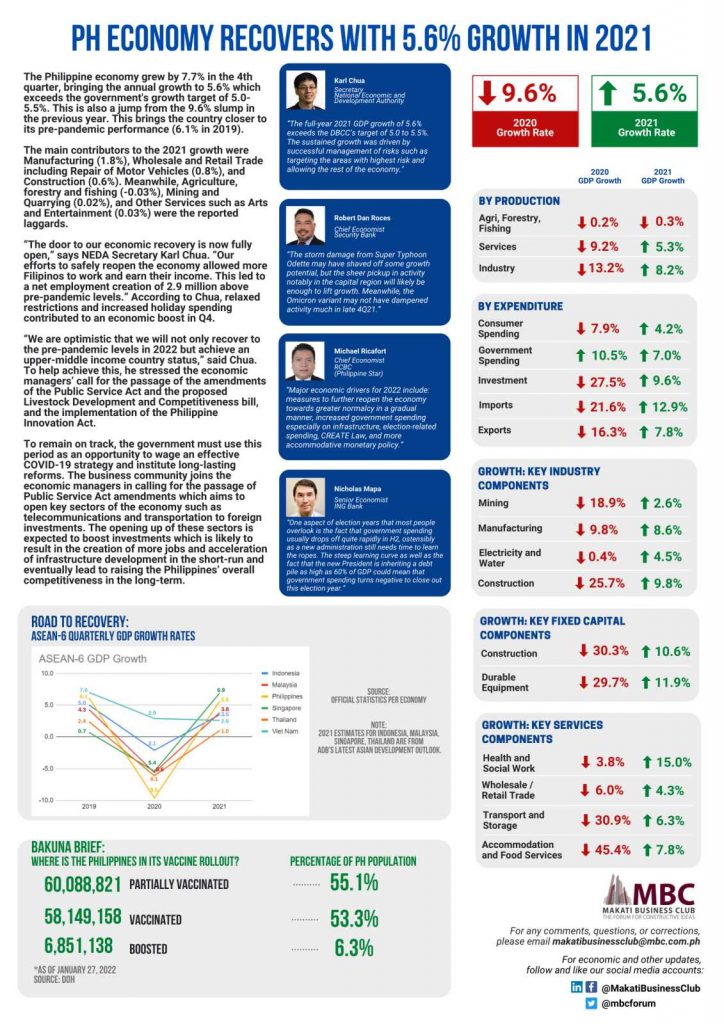 The Philippine economy grew by 7.7% in the 4th quarter, bringing the annual growth to 5.6% which exceeds the government target of 5.0-5.5% 2021 growth for 2021. This is a jump from the 9.6% slump in the previous year. This also brings the country closer to its pre-pandemic performance (6.1% in 2019).

The main contributors to the 2021 growth were Manufacturing (1.8%), Wholesale and Retail Trade including Repair of Motor Vehicles (0.8%), and Construction (0.6%). Meanwhile, Agriculture, forestry and fishing (-0.03%), Mining and Quarrying (0.02%), and Other Services such as Arts and Entertainment (0.03%) were the reported laggards.

"The door to our economic recovery is now fully open," says NEDA Secretary Karl Chua. "Our efforts to safely reopen the economy allowed more Filipinos to work and earn their income. This led to a net employment creation of 2.9 million above pre-pandemic levels." According to Chua, relaxed restrictions and increased holiday spending contributed to an economic boost in Q4.

"We are optimistic that we will not only recover to the pre-pandemic levels in 2022 but achieve an upper-middle income country status," said Chua. To help achieve this, he stressed the economic managers' call for the passage of the amendments of the Public Service Act and the proposed Livestock Development and Competitiveness bill, and the implementation of the Philippine Innovation Act.

To remain on track, the government must use this period as an opportunity to wage an effective COVID-19 strategy and institute long-lasting reforms. The business community joins the economic managers in calling for the passage of Public Service Act amendments which aims to open key sectors of the economy such as telecommunications and transportation to foreign investments. The opening up of these sectors is expected to boost investments which is likely to result in the creation of more jobs and acceleration of infrastructure development in the short-run and eventually lead to raising the Philippines' overall competitiveness in the long-term.