Handbooks on Digital Democracy: Lessons from
Pasig, Intramuros, Legazpi, and Iligan pilot runs during COVID-19
30 June 2022 – Makati Business Club launched four (4) handbooks online entitled "Digital Democracy in the Middle of the Pandemic: Lessons from 5 Pilot Projects" to provide government officials the tools to initiate a Digital Democracy project in their own cities or agencies, enabling them to make decisions informed by citizen input while at the same time, strengthening community and civic engagement.
Digital Democracy is an online consultation process that local governments and civil society organizations can use to get feedback from their constituents and communities. This benefits the organizations by improving civil discourse, tailoring actions to match citizen sentiment, and providing data to inform decision-making.
The first handbook shares case studies from the MBC Digital Democracy Project with Pasig, Intramuros, Legazpi, and Iligan LGUs in 2020 and 2021.
The second handbook discusses the six (6) steps to the Digital Democracy Process, supported by narratives on how LGUs adapted these on policies ranging from car-less roads to boost restaurant and retail businesses, to improving the overall mobility of the city, to pro-MSME regulations.
The remaining two handbooks explore more concepts, processes, and strategies for implementation, including the institutionalization of Digital Democracy in the LGU, and recommendation for a Digital Democracy Officer (DDO) position.
Makati Business Club spearheaded the development of the handbooks, together with contributors and reviewers from Layertech Labs, Feedback Labs, UNDP, Intramuros Administration, Pasig City Government Transport Office, Iligan City Government, Legazpi City Government, Mañago Engineering Consultancy, Albay Chamber of Commerce and Industry, SEDP (Simbag sa Pag-asenso, Inc.), DTI – Lanao del Norte, and Bicol University College of Science.
Read and download these handbooks for free on the MBC Digital Democracy microsite: https://mbc.com.ph/digital-democracy/resources/handbooks/
#MakatiBusinessClub #MBCDigitalDemocracy #DigitalDemocracy #COVID19 #Pandemic #Handbooks #Pasig #Intramuros #Iligan #Legazpi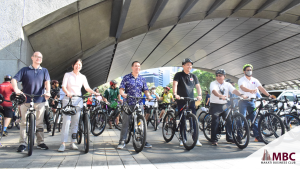 Philippine Business, Government, and Diplomatic Corps Call for Safer Bike Lane Networks and Bike-Friendly Policies Nationwide 27 November 2022 – On National Bicycle Day, a
Read More »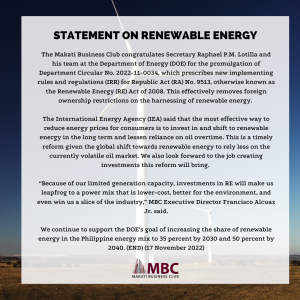 Statement on Renewable Energy 17 November 2022 — The Makati Business Club congratulates Secretary Raphael P.M. Lotilla and his team at the Department of Energy
Read More »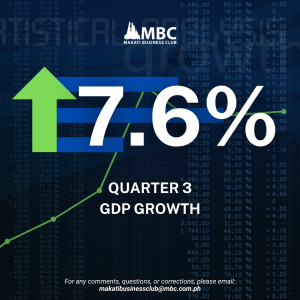 PH Grows by 7.6% in Q3 The Philippines grew by 7.6% in the 3rd quarter, maintaining the country's recovery trajectory for the past 5 quarters.
Read More »