MBC Launches Handy Tool for Decision-Makers in Fast-Changing Economy
Makati Business Club is launching the MBC Economy Dashboard to help executives and policymakers make better decisions and pitches in today's fast-changing economy. The launch comes a day before the Bangko Sentral ng Pilipinas is expected to raise interest rates anew to fight inflation.

The Dashboard is at: https://bit.ly/MBCEconomyDashboard. Decision-makers can save it on their desktops and mobile phones for easy access.
"We put together the MBC Economic Dashboard because, with all the economic upheavals in the Philippines and around the world, decision-makers need more tools to stay ahead and make more profitable, job-creating decisions for their business and the country," MBC Chairman Edgar O. Chua said.

The MBC Economy Dashboard has almost 20 key statistics including inflation and interest rates, GDP, FDI, and Trade, providing a comprehensive picture of the economy. It comes with graphs, to make the picture clearer. Users can adjust the time periods covered by the graphs, depending on whether they want a long view or a shorter term one. The statistics and graphs can be downloaded (and printed) for when users find hard copies helpful.

"In the midst of our new economic and political worlds, it's important to be able to understand — and talk about — the Philippine economy so that we know what we need to work on to provide better incomes and livelihoods for our countrymen," said Jocot de Dios, MBC Economy Committee chair and Manila Water Co. CEO.

"The MBC Economy Dashboard gives everyone who wants and needs an economic overview easy access to it."
The MBC Economy Dashboard is part of MBC's Economic Policy Program, whose major sponsor is Monde Nissin, the Philippine-based producer of Lucky Me noodles and other food products.

"We are pleased to partner with MBC on this project," said Henry Soesanto, Monde Nissin CEO. "As a company that does business across Asia and beyond, we see the competition for investment and jobs and hope tools like the dashboard help the Philippines get a growing share of that."
Philippine National Bank is also a sponsor.
The launch of the MBC Economy Dashboard comes as MBC holds discussions with President Ferdinand Marcos Jr.'s economic appointees, identifying areas where the business sector can help the government boost trade, investment, and jobs. (For more on the meetings, please click here: https://bit.ly/MBCActivities) (END, 18 August 2022)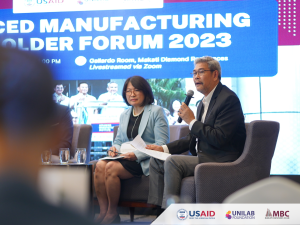 The First Advanced Manufacturing Stakeholder Forum Previous Next 19 September 2023 –The Advanced Manufacturing Stakeholder Forum discussed strategies to strengthen the workforce and address the
Read More »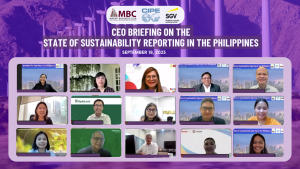 The State of Sustainability Reporting in the Philippines 20 September 2023 –The Makati Business Club (MBC) recently held a CEO briefing last September 18, 2023
Read More »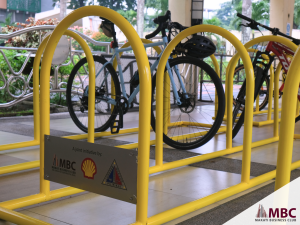 MBC and Shell Pilipinas Corporation Turnover 24 Bike Racks to Quezon City LGU, Benefiting 56 cyclists MBC, Shell, and QC Representatives were present for the
Read More »