Statement for World Car-Free Day 2022
22 September 2022 – On the occasion of World Car-Free Day, MBC encourages managers and policymakers to ask about or even experience the challenges and benefits of public transport and active mobility (walking and cycling). This would be a critical factor in promoting and enacting people-oriented transportation systems that serve the great majority of Filipino commuters.
We support increased investment in public transport that is well- and holistically-studied as well as pedestrian sidewalks and bike lanes that are safe and inclusive. We support evolving discussions around motorcycles given the fast-growing role they are playing in our lives. We believe these investments are an essential part of a transport and mobility system that will enable all Filipinos to work and do other activities they need or want to do.
On cycling, MBC started its Business For Biking Program in 2021 to help Filipinos who bike to get to work and for whom biking is work.
We encourage government, businesses, and civil society organizations to promote and build more protected bike lanes, bike ramps, and end-of-trip facilities (bike racks, showers, and lockers). We thank and congratulate government agencies and businesses that have advanced these. We invite others to do so and would be happy to help them. (END)
(MBC's Business for Biking project is supported by Shell Philippines. It was launched in 2021 in partnership with the Dutch Embassy.)
Powering Progress Through Active Mobility
In celebration of World-Car Free Day, learn more about the bike-friendly initiatives of Pilipinas Shell from their CEO and President, Lorelie Quiambao Osial.
MBC's #BusinessforBiking program was launched in 2021 with the Embassy of the Netherlands and in 2022, in partnership with Pilipinas Shell Petroleum Corporation. The project aims to collaborate with government, business, and civil society organizations to develop a #bike-friendly environment via policy, infrastructure, and other initiatives. Read the press release: https://bit.ly/MBC-Shell-ForActiveMobility
Take part in MBC's Business For Biking Initiatives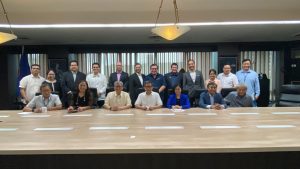 MBC Supports DOE Sec. Lotilla's and ERC Chair Dimalanta's Policies to Attract Investment to Ensure Supply 5 October 2022 – Makati Business Club supports DOE
Read More »
MBC Calls for FOI Law to Achieve "Data Driven" Vision for PH, on International Day for Universal Access to Information 28 September 2022 – On
Read More »
MBC, Partners Start Project to Show, Counter How Gender Norms Affect Women's Careers [Left to Right] Aileen Judan-Jiao (MBC Women in C-Suite Committee Chair), Kathy
Read More »