MBC Calls for FOI Law to Achieve "Data Driven" Vision for PH, on International Day for Universal Access to Information
28 September 2022 – On the International Day for Universal Access to Information, MBC calls on lawmakers to enact a national Freedom of Information Law to empower the Philippines to be the "data-driven" society envisioned by President Marcos and other government and civic leaders. We urge governors, mayors, and Sanggunian to pass FOI ordinances that will help this culture spread and take root throughout the country.
In his first State of the Nation Address, President Marcos set the goal for the government to have "good and solid data to ensure informed decision-making." An FOI Law and FOI ordinances will ensure all citizens have the same, giving government agencies added impetus to fulfill the President's vision. As importantly, it would enable organizations and citizens to make the decisions that can improve their lives and accelerate national progress.
In the U.S. and other countries, business is the No. 1 user of FOI laws. This access to governments' unequaled volume of information and data helps spur economic development, scientific innovation, more jobs, and better lives. This is why in 2021, 20 Philippine business groups signed a joint statement asking Congress to pass an FOI Law.
We applaud President Duterte for issuing an FOI EO in 2016, for 61 LGUs passing their own FOI ordinances: We call on organizations and citizens to avail of these rights and processes to embed the culture in the public and private sectors. We applaud the House of Representatives for producing a committee report in 2021: We call on Congress to reopen and advance discussions this year, and bring themselves closer to a landmark legislative achievement.
#PassFOINow #MBCFOI
FYI on FOI | MBC's Freedom of Information Explainer Video
TAO PO! Ating alamin ang karapatan ng bawat Pilipino tungo sa bukas at malayang daloy ng impormasyon at kung ano ang mga magandang dulot nito sa bawat sektor ng mamamayan.
Handog ng Makati Business Club at Center for International Private Enterprise, sama-sama nating patatagin ang transparency sa gobyerno.
Para sa karagdagang kaalaman, bumisita sa website na www.mbc-foi.com at www.foi.gov.ph.
#PassFOINow #MBCFOI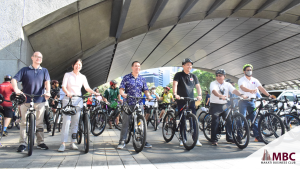 Philippine Business, Government, and Diplomatic Corps Call for Safer Bike Lane Networks and Bike-Friendly Policies Nationwide 27 November 2022 – On National Bicycle Day, a
Read More »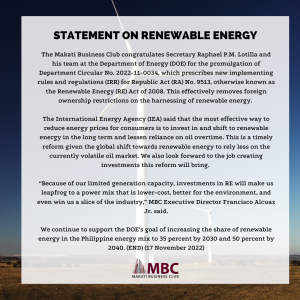 Statement on Renewable Energy 17 November 2022 — The Makati Business Club congratulates Secretary Raphael P.M. Lotilla and his team at the Department of Energy
Read More »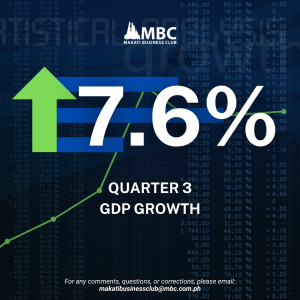 PH Grows by 7.6% in Q3 The Philippines grew by 7.6% in the 3rd quarter, maintaining the country's recovery trajectory for the past 5 quarters.
Read More »