Philippine Business, Government, and Diplomatic Corps Call for Safer Bike Lane Networks and Bike-Friendly Policies Nationwide
27 November 2022 – On National Bicycle Day, a multi-sectoral call for safer bike lanes and stronger regulations to protect bikers was made at this year's National Bike Lane Awards – hosted by the Ayala Foundation, Makati Business Club, and the Interagency Technical Working Group for Active Transportation (IATWG-AT).
"It is critical for all sectors to inspire others to emulate alternative modes of transport," said Department of Transportation Secretary Jaime Bautista. "When people decide not to cycle, it's often an indicator of lack of safety, not lack of need or want. We know many Filipinos need and want to cycle," said Move As One Convenor Robert Siy, Jr.
Makati Business Club Trustee and President of Philippine Seven Corporation Jose Victor Paterno urged the government to prioritize a connected bike lane network and regulation codifying right of way for cyclists. "Other bike-friendly services will naturally follow when a critical mass of bikers is served through better bike lanes, and you can count on the private sector to help out," Paterno added.
Swedish Ambassador to the Philippines Annika Thunborg and Dutch Deputy Ambassador to the Philippines Robert van der Hum supported the call to promote the safety of cyclists.
Iloilo City bagged the Gold Award, with Quezon City and Mandaue City earning the Silver and Bronze Awards respectively at this year's National Bike Lane Awards for their best practices and efforts to establish bike lanes. Pasig City won an Exemplary Award for Implementation, Monitoring, & Evaluation, while Alaminos City won an Exemplary Award for the planning of their bicycle network. Baguio City and Taguig City were recognized as finalists.
The National Bike Lane Awards was launched in 2021 by the IATWG-AT – comprising the Department of Transportation, the Department of Interior and Local Government, the Department of Public Works and Highways, the Department of Health, and the National Economic and Development Authority – to promote and develop active mobility across the country.
This year's winners received bike donations for their employees from the Wheels For Work Project, a joint initiative between the Ayala Foundation and Makati Business Club to provide bikes as a sustainable means of transportation to help mobilize Filipino workers nationwide.
The event was made possible with the support of 7-Eleven, AC Infra, Coca-Cola, CycleHouse, Entrego, GIZ, Grab, McDonald's Philippines, MDC Equipment Solutions, Megawide Foundation, Monark, SM Cares, and White & Case.
Take part in MBC's Business For Biking Initiatives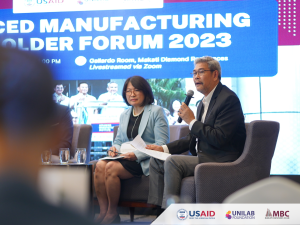 The First Advanced Manufacturing Stakeholder Forum Previous Next 19 September 2023 –The Advanced Manufacturing Stakeholder Forum discussed strategies to strengthen the workforce and address the
Read More »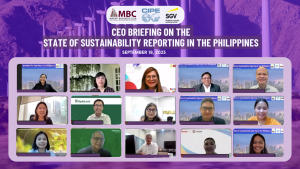 The State of Sustainability Reporting in the Philippines 20 September 2023 –The Makati Business Club (MBC) recently held a CEO briefing last September 18, 2023
Read More »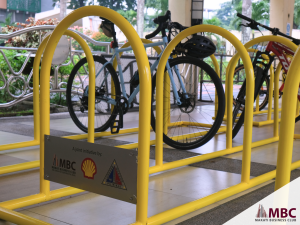 MBC and Shell Pilipinas Corporation Turnover 24 Bike Racks to Quezon City LGU, Benefiting 56 cyclists MBC, Shell, and QC Representatives were present for the
Read More »