On National Bike Day, "Wheels For Work" Program Empowers Workers Across The Country
52 of the bikes were awarded to the winners of this year's National Bike Lane Awards including: Iloilo City, Quezon City, Mandaue City, Alaminos City, and Pasig City. The bikes will be given to the select employees of the winning LGUs who have no means of transportation to and from work.
Read more about the 2022 National Bike Lane Awards – co-hosted by the Interagency Technical Working Group for Active Transport, Ayala Foundation, and Makati Business Club – here.
The other 20 bikes were given to janitors, security guards, and other workers at turnover events held in Cebu and Cagayan de Oro.
The bikes were donated by Ayala Foundation partners and Makati Business Club members, including: AC Infra, Entrego, Grab, McDonald's, Megawide, Monark Equipment, SM Cares, and White & Case.
The donor companies expressed support for more concrete infrastructure and policy changes that would make commuting by bicycle safer, more attractive, and comfortable for all Filipinos, especially members of the Filipino workforce.
Mark Hernandez of White & Case said, "It makes good business sense and environmental sense for employers to actively support employees who commute by bike on a day to day basis."
Mely Purificacion of Monark added, "More businesses [should] support bike commuters through Wheels for Work of Makati Business Club because it is good for the environment and it can stimulate healthier and happier workforce that resonates to higher productivity."
Lem Gardose of Megawide said, "It's very important for businesses [na] mas maging involved and mag-participate because hindi lang naman ang society ang responsible dito, but even the companies, mas kailangang [tumulong] towards a productive and sustainable future."
["It's very important for business to be more involved and to participate because it's not just society that is responsible, but even the companies need to help contribute towards a productive and sustainable future."]
The Wheels for Work is a joint project of the Ayala Foundation and the Makati Business Club to donate bikes to Filipino workers nationwide to help mobilize the workforce and provide a sustainable means of livelihood.
Take part in MBC's Business For Biking Initiatives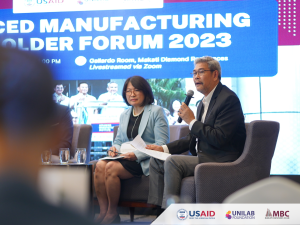 The First Advanced Manufacturing Stakeholder Forum Previous Next 19 September 2023 –The Advanced Manufacturing Stakeholder Forum discussed strategies to strengthen the workforce and address the
Read More »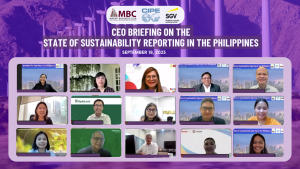 The State of Sustainability Reporting in the Philippines 20 September 2023 –The Makati Business Club (MBC) recently held a CEO briefing last September 18, 2023
Read More »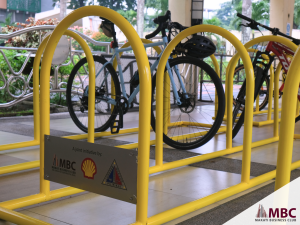 MBC and Shell Pilipinas Corporation Turnover 24 Bike Racks to Quezon City LGU, Benefiting 56 cyclists MBC, Shell, and QC Representatives were present for the
Read More »