Diversify Energy Mix, Consider Nuclear,
Save Power, Lotilla Says
13 March 2023 — Energy Sec. Raphael "Popo" Lotilla said the Philippines needs to diversify its energy mix to ensure the economy can grow at a faster pace even as rising geopolitical tensions and climate change put imported fuels at risk.
"We cannot simply depend on one or several sources of energy," Lotilla told Makati Business Club members at a meeting on March 13, 2023. "Diversification is key. At this point, we really are not absolutely certain of which technology will be maturing in a faster way or will be there when we need it. So right now, we need all the sources of power that we have.
"We should be open even to nuclear power," Lotilla said, adding that the government will adhere to International Atomic Energy Agency (IAEA) standards.
Coal and oil make up the bulk of the Philippines' energy mix, at 37% and 35%.
The DOE is pushing for a significant increase in renewable energy. In November 2022, Sec. Lotilla issued Circular No. 2022-11-0034 which amended the implementing rules and regulations (IRR) of the Renewable Energy Act allowing foreign investors to conduct exploration, development, and utilization of renewable energy sources following a legal opinion released by the Department of Justice (DOJ) which put forth that the renewable energy sector is not subjected to foreign equity limitations in the 1987 Constitution.
"[Sec. Lotilla] has already succeeded in passing a game-changing reform: opening the renewable energy sector to foreign investors at 100% equity," MBC Chairman Edgar O. Chua said in his introductory remarks. "This will help achieve the target of 50% renewable energy by 2040."
On the sidelines of the meeting, Sec. Lotilla told reporters the private sector can do its share to address near-term shortages by setting aircon temperatures higher, for example, 23 degrees instead of 18 degrees.
The meeting was the third session in MBC's F2F With Cab Secs series, featuring key economic officials and brought to you by ACCIONA, SM Investments Corp., and SteelAsia. The series is part of MBC's contribution to deepening public-private dialogue and collaboration. The next guest in the series is Transportation Sec. Jaime Bautista on April 27.
Watch the session on YouTube (click here)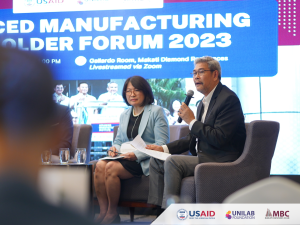 The First Advanced Manufacturing Stakeholder Forum Previous Next 19 September 2023 –The Advanced Manufacturing Stakeholder Forum discussed strategies to strengthen the workforce and address the
Read More »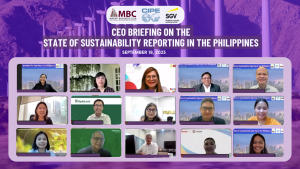 The State of Sustainability Reporting in the Philippines 20 September 2023 –The Makati Business Club (MBC) recently held a CEO briefing last September 18, 2023
Read More »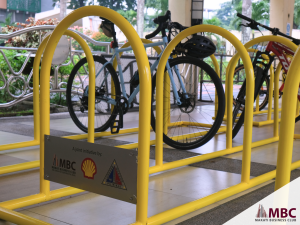 MBC and Shell Pilipinas Corporation Turnover 24 Bike Racks to Quezon City LGU, Benefiting 56 cyclists MBC, Shell, and QC Representatives were present for the
Read More »