MBC and CIPE discuss
Sustainability Reporting (SR) in the Philippines
22 March 2023 — MBC member executives participate in a lively roundtable discussion on the strategic value and implementation of Sustainability Reporting (SR) in the Philippines.
Executives from different industries including banks, energy, telecommunications, technology, food and beverage participated in the discussion. Member companies shared their sustainability journey and how sustainability measures have become part of their business process.
Eric Luchangco of Bank of the Philippine Islands (BPI) talked about how sustainability reporting helps the bank identify its exposure to risks, for example environmental risks related to coal. Also joining the discussion were Yoly Crisanto (Globe Group), Atty. Patricia Bunye (Cruz Marcelo & Tenefrancia), Catherine Lipana-Gomez (PwC), Yvonne Flores (JG Summit Holdings Inc.), Jose Uy III (Nestlé Philippines), Rey Abilo (Pilipinas Shell Petroleum Corporation), Armi Lamberte (RCBC), and Elmer Lapena (Testech Group).
The discussion was also joined by partners from the Center for International Private Enterprise (CIPE) represented by Abduwalhab Alkebsi (Managing Director for Programs), John Morrell (Regional Director for Asia & Pacific), and Ryan Evangelista (Philippines Country Director). SGV & Co. was represented by Benjamin Villacorte and Clairma Mangangey..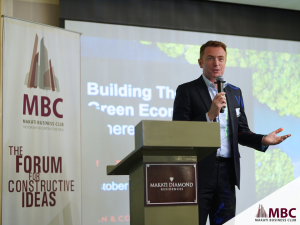 Bain: PH Can Better Achieve Decarbonization Targets Through Strengthened Public-Private Partnerships 26 October 2023 – Bain & Company said increased public-private collaboration in the Philippines
Read More »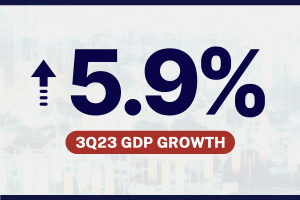 PH Economy Picks up at 5.9%, Accelerated Faster than Expected 9 November 2023 — Philippine economic growth accelerated faster than anticipated to 5.9% in the
Read More »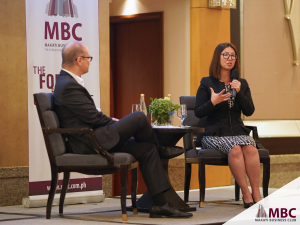 PH-AUS partnership talked about during MBC meeting with AUS Ambassador, Increased bilateral trade and investment opportunities 24 October 2023 – Australian Ambassador, H.E HK Yu
Read More »