The CongressWatch Report provides monthly updates on the latest developments in the Philippine Senate and House of Representatives. It covers various aspects of the Legislature's work, such as the bills and resolutions filed, committee action, floor debates and votes, and legislation passed. It also includes reports on the performance and voting records of legislators.
Read the latest CongressWatch Report
MBC Research Report features analytical reviews of issues and policies regarding the Philippine economy and key social sectors, and also highlights major economic studies published by partner organizations and agencies. It seeks to explain economic and sociopolitical trends—and how these may impact the economy and Philippine businesses—to non-economists, avoiding the jargon that could befuddle the issues.
Read the latest MBC Research Report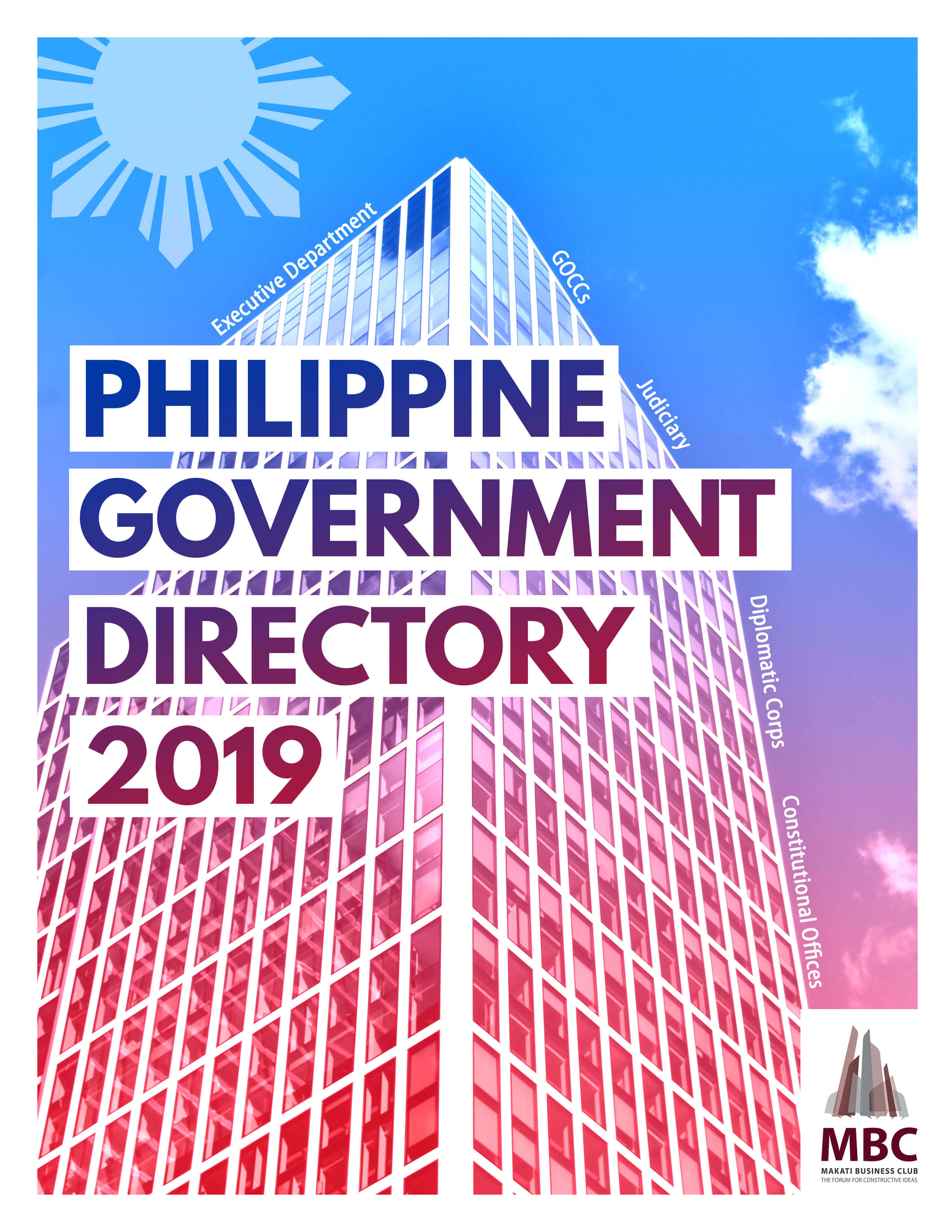 The Makati Business Club's PHILIPPINE GOVERNMENT DIRECTORY (PGD) is a comprehensive listing of the names, office addresses and contact details of Philippine government officials in the Executive, including Government-Owned and Controlled Corporations, the Judiciary, Philippine Diplomatic Corps abroad, as well as foreign embassies in the Philippines. Also included in this edition are the contact details of the Constitutional offices.
Pre-order the 2019 Philippine Government Directory
Executive Outlook Survey
The Executive Outlook Survey is a business confidence survey conducted every semester by the MBC among its members. It measures business opinion and confidence levels regarding economic, corporate, and government performance. It also identifies businessmen's perception on pressing national issues.
Read the latest Executive Outlook Survey
Business Opinion Survey Series
The Business Opinion Survey Series is conducted among MBC members to measure their opinions on specific public and business issues. This special survey is carried out occasionally.
Read the latest Business Opinion Survey
WEF Global Competitiveness Report
The World Economic Forum's Global Competitiveness Report is the most comprehensive and authoritative assessment of the comparative strengths and weaknesses of over 130 major and emerging economies. The MBC has been the WEF's exclusive partner institute in the Philippines for the preparation of their international competitiveness reports since 1993.
Read more on the WEF Global Competitiveness Report
Philippine Business, the prestigious business magazine of the Makati Business Club, delivered economic and business news, features, and analyses to the Philippines' corporate leaders and policymakers from 1994 to 2009.
For inquiries about back issues, call (+632) 751 1139.