February 21 – The UK Prime Minister's Trade Envoy for ASEAN, Richard Graham, met with key representatives of the private sector, composed of both Philippine and British companies, at a dinner reception co-organized by the Philippine-British Business Council, British Chamber of Commerce in the Philippines, the Makati Business Club, and the British Embassy in Manila.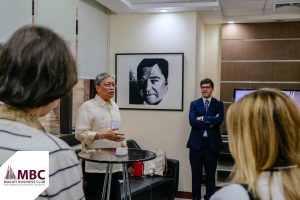 March 26 – The Makati Business Club hosted a reception for Portugal's Secretary of State for Internationalization, Eurico Brilhante Dias, and members of a business delegation in Manila for the Asian Development Bank Business Opportunities Fair.
In the World Economic Forum Global Competitiveness Report 2018, the Philippines ranked 56th of the 140 countries surveyed. This 12-place rise from the 2017 ranking is the result of improved economic growth, infrastructure, social capital and safety.
1 March 2019 – The Makati Business Club and the Organisation for Economic Co-operation and Development (OECD), with the support of the European Union, conducted a roundtable meeting today on Responsible Agricultural Supply Chains.