Digital Democracy Handbook
Makati Business Club (MBC) initiated the Digital Democracy project in 2020 with Konrad Adenauer Stiftung (KAS) inspired by Taiwan's experience using AI-driven platforms to guide government policy around Uber, Grab, and other ride-sharing applications. 
MBC held five (5) Digital Democracy projects in Pasig, Manila (with the Intramuros administration), Iligan, and Legazpi cities from 2020 to 2021 to support government decision-making around transportation and support for MSMEs. 
Digital processes may lead to more constituents participating as compared to face-to-face consultations — in Iligan city,  229 people voted compared to the 20-30 who would attend Iligan's previous physical public consultations.
Policymakers found the Digital Democracy process helpful because it reveals how to get support for LGU-led policies based on feedback from constituents. Pursuing a controversial policy to bar cars from certain streets, Pasig Transport Office learned that framing the policy as a child-safety initiative instead may improve compliance.
2. Scope and Delimitation
This material serves as a general guide designed for all actors at all levels of the implementation of a Digital Democracy initiative and could provide an overview of the diverse opportunities to start Digital Democracy activities in their respective offices. 
This material does not attempt to address all possible procedures or methods of Digital Democracy or imply that it is limited to the contents of this material. Readers are urged to view this handbook as an initial guide; to supplement their knowledge on the possible uses of ICT tools, procedures, and methods to enhance democratic processes, and inform decision-making and policy-making at the local government level. Finally, this material is not meant to replace domestic policies and procedures.
In 2020, the Digital Minister of Taiwan, Audrey Tang, shared Taiwan's experience in using Pol.Is (an online tool) to gather citizen opinions on Uber and other ride-sharing apps in their country to MBC members. She showed how this helped the government create policies for the sometimes-controversial ride-sharing industry.
This catalyzed MBC to spearhead its own Digital Democracy initiative in the Philippines, especially in light of the restrictions the COVID-19 pandemic placed upon face-to-face meetings and town halls. The project aimed to strengthen democracy and governance by introducing digital collaboration tools to the government. These tools are meant to help local governments use technology to help get citizen participation to craft policies with increased citizen participation, resulting not only in more buy-in into the policies, but a civil discourse beneficial to democracy.
In October 2020, MBC and Konrad Adenauer Stiftung partnered with the Pasig City government to conduct a pilot run of the project, focusing on the possibility of implementing open streets in Pasig. This run will be described in detail in section 2.1 of this handbook. 
After the successful run in 2020, MBC and KAS continued the Digital Democracy project.
In 2021, the digital democracy project was successfully executed in the cities of Pasig, Legazpi, and Iligan, as well as in Intramuros. The process and citizen feedback from the activities in 2021 are shared in sections 2.2 to 2.5 of this handbook.  A summary of the number of voters and votes cast in the Digital Democracy process in 2020-2021 can be found in Table 1.
This document presents the general experiences and lessons from the Digital Democracy project and its pilot cases in 2020-2021. The goal of this handbook is to serve as an initial guide for government offices and their stakeholders on running their own Digital Democracy initiatives. 
Table 1: Digital Democracy in Numbers
When
Topic
Voters
Votes Cast
Digital Democracy in 2020
Oct. 9 – Oct. 17, 2020
(8 days)
Open Streets in Pasig
514
23,415
Digital Democracy in 2021
Jun. 4 – Jun. 22, 2021
(18 days)
Low-Speed Streets in Pasig
471
12,901
Jul. 7 – Jul. 23, 2021
(16 days)
Pedestrian-Only Streets in Heneral Luna (Intramuros)
1,071
21,579
Aug. 2 – Aug. 13, 2021
(11 days)
Strengthening Small Family Businesses in Legazpi
338
17,046
Sep. 16 – Sep. 29, 2021
(13 days)
Strengthening Small Business in Iligan City
229
5,644
Total
2,109
57,170
3.1. Digital Democracy during the COVID-19 pandemic
The Digital Democracy project was created to adapt government processes to the challenges and opportunities of COVID-19. The Philippines underwent strict lockdowns in 2020 greatly limiting mobility and forcing public and private sectors to move online to continue operations. More use of internet tools by more people means a bigger "digital footprint" – data about online activities – that can generate insights to inform policymaking.  
The project chose online platforms that a diverse group of citizens would find easy to use, and that government officials would find easy to understand. Pol.Is, the AI-driven online platform used in Taiwan, was chosen as the main feedback collection tool for its simple interface and powerful data visualization. Pol.is was supplemented by data collected from social media scraping[1] and topic-related datasets[2] provided by the local government unit. Layertech Labs, a Data Science organization, and its partner academics under the FeedbackLabs-funded CloudCT project were tapped to analyze the data collected by the platforms.  The survey results and analysis were used as a basis for next steps, and to inform local policy-making.
Figure 1: Digital Democracy consultation process implemented in 2020-2021
[1] Social media scraping is the process of collecting data about a specific topic, from social media platforms. In this way, the feedback collection includes the sentiments that were shared by citizens on social media. For more information about data scraping, you can check this link
[2] These are datasets collected from sources outside of the pol.is platform. For example, the consultation is about supporting MSMEs. Topic-related datasets collected include business registration data from the LGU and annual investment plans.
4. Digital Democracy in support of economic activity and employment
In 2020 public utility vehicles — the main mode of transportation for workers — were only allowed to operate at 30% capacity, leaving many workers unable to get to work. This led to an increase in bicycle use for transportation to work. At the same time as this surge of bicycles on the road, restaurants were also only allowed to operate outdoors. Both the decrease of car use and the increased demand from restaurants for street space led to the first citizen assembly in Pasig.
Pasig's first citizen assembly asked Pasiguenos what they thought about "Open streets" – an initiative to turn low-traffic streets into biking, walking, retail, and restaurant areas to allow for safe social activity and livelihood during COVID-19. Open streets are roads where motor vehicle traffic is not permitted, except for access by residents of the street and emergency vehicles. Instead of motor vehicles, walking, cycling, or light electric vehicles are encouraged. Roads identified for this intervention are those with a large number of restaurants, retail establishments, or residences whose doors open directly into street frontage. A low level of motor vehicle ownership by residents of the street is also ideal.  
The opening and closing citizen assemblies were held in October 2020. The first introduced the concept of open streets and launched the survey.  514 people voted. During the closing assembly, the results of the survey were presented to the government. Overall, the results showed that respondents agreed with Open Streets as a safe and socially-distant way to accommodate a bigger number of pedestrians and cyclists under COVID-19.  
Policymakers found the discussion helpful because it revealed areas of both agreement and disagreement: Respondents disagreed the most on the statement "Roads are no place for people to walk on".  Respondents that prefer to use cars, and those concerned about road safety agreed with this statement, while respondents that advocated for bike use and active transport disagreed. However, Pasiguenos – even those that prefer to use cars over any other mode of transportation – agreed that urban places where children can walk and play safely are important. The project team recommended that the Pasig City Transport consider Open Streets as a child safety initiative in addition to being an active transportation measure. 
12 October 2020 – Social media poster inviting citizens to vote on "Open Streets in Pasig".
After the successful run in Pasig in 2020, MBC partnered once again with KAS to conduct the second run of the Digital Democracy project. This time the scope would be larger, with MBC working with 3 cities across the Philippines, and one national government agency.
Implementing "Low-speed streets' ', or streets with speed limits under 30kph, is part of Pasig City's agenda to reduce road accidents and improve the mobility of people and the flow of traffic in the city. Before implementing the policy, Pasig LGU wanted to ask what Pasig residents think about implementing a 30 kph speed limit in their urban centers. For this, two citizen assemblies were conducted, and a 54-statement survey was rolled out via Pol.Is for a total of 18 days. 
08 June 2021 – Social media poster with a quote from Mayor Vico Sotto from the Pasig Citizen Assembly launch event. The poster aimed to present the reason why citizens were being consulted on Pasig's proposed policy on low-speed streets.
423 respondents submitted their feedback – since this was a targeted audience, there were slightly fewer respondents than in the original Pasig survey in 2020. The qualitative feedback was analyzed by Layertech Labs using data analysis tools[3]. 
Results showed two 'opinion groups', or groups of voters who tend to vote similarly on a significant number of statements. Both groups agree on the benefits of walking and cycling, which is encouraged by the low-speed streets policy. However, the two opinion groups disagree on whether cars should be prioritized over pedestrians and cyclists. Association rules linked the disagreement with the low-speed streets policy to beliefs that the policy will greatly inconvenience cars, that it will increase pollution, and that they don't trust the fair enforcement of the policy if ever it is enacted. 
[3] Layertech Labs analyzed the data collected from the feedback collection using Natural Language Processing (NLP) methods, while the quantitative feedback was analyzed using timeline analysis, association analysis, and principal components analysis (via Pol.Is). More information about popular data mining and analysis models can be found here.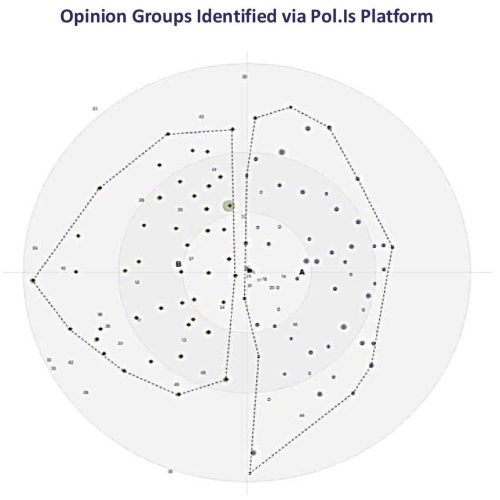 Figure 2: Analysis Report on Pasig's Assembly on Low-Speed Streets identified  two opinion groups based on voting patterns.
Informed by the citizens' concerns and suggestions, the local government stakeholders discussed the suggested next steps which are: 
Information and education campaigns to eliminate misconceptions about pollution and low-speed streets;
Possible incorporation of engineering solutions in traffic management and explore 'contactless enforcement'; and
Train enforcers to effectively work with people.
Finally, the Pasig LGU's chief of transport shared that they are considering pilot implementation in select areas first, and focus on consistency of enforcement to address the concerns of the people before going for a full rollout. 
Another Digital Democracy use case is the online consultation of the Intramuros Administration (IA) regarding the possible closure of Heneral Luna street, a major street in the area, to motor vehicles. 
In a 2014 report by the World Bank, walking was identified as the primary mode of transport within Intramuros as part of a long-term vision for improving mobility. To achieve this, the Intramuros Administration proposed that Heneral Luna street and parts of other streets become pedestrian-only zones.
The pedestrianization of Heneral Luna street aims to protect the structural integrity of the San Agustin Church, promote tourism, preserve the historical and cultural value of Intramuros, and promote tourism and business.  As an initiative to preserve heritage, this is consistent with UNESCO's Urban Heritage Landscape Approach. Recent studies have shown that the structural integrity of the San Agustin Church is in jeopardy because of the volume of vehicular traffic passing Heneral Luna street.
However, IA acknowledges that the proposed pedestrianization would still affect some communities in the area, and would evoke various reactions from stakeholders.
To inform the IA's policy and implementation, an online survey and two consultations were conducted to understand public sentiment about this initiative. Similar to the Pasig case, the primary feedback collection tool used was Pol.Is, and Facebook comments on related posts were scraped to supplement the feedback data. The survey ran for a total of 16 days, garnering a total of 1,014 responses and an additional 433 qualitative feedback in paragraph forms. 
14 July 2021 – Intramuros Administration's social media poster, asking citizens to vote on turning Heneral Luna into a pedestrian-only street.
For the case of IA, 497 out of 1,014 voters were categorized under two opinion groups. The first opinion group is composed of respondents who are mostly employees and business owners who go to IA on a daily basis. This group, despite being the relative minority, are hesitant about the pedestrianization of Heneral Luna street mostly due to concerns about transport, parking areas, and how it will affect their business if customers won't be able to park their cars near the area. The second opinion group, the majority, are mostly regular visitors to Intramuros and are strongly in agreement with the pedestrianization.  
The analysis also showed key concerns about the policy which are:
1.     Ensuring that the walking areas in Intramuros are safe and secure;
2.     Business and Tourism-related concerns (e.g., How can tourist buses drop off their clients? Where do they park?);
3.     Special attention to PWDs and Senior citizens visiting the area;
4.     Access to public transportation;
5.     Concerns about parking spaces and alternate routes (mostly for delivery drivers and employees who go to Intramuros on a daily basis); and
6.     And emerging conversation about finding the balance between preserving culture and history, and embracing development.
The IA representatives acknowledged the concerns and proposed next steps and solutions addressing these concerns during the closing citizen assembly. Intramuros Administration will use the results of the consultation in their board meeting, to further design measures that address the citizens' key concerns.  
Micro Small and Medium Enterprises (MSMEs) are one of the most affected by the negative impact of the COVID-19 pandemic.   Both the city governments of Legazpi and Iligan acknowledge the crucial role of MSMEs in economic recovery. Resolved to support MSMEs in their locality, Legazpi LGU and Iligan LGU consulted with their constituents as to how they can best craft policies and programs that would help MSMEs recover from the effects of Covid-19.
For Legazpi, the LGU and stakeholders decided to focus on family-owned businesses, especially the micro and informal vendors. A series of online consultations with Legazpi LGU and stakeholders were conducted to formulate a total of 55 survey statements related to the survey objectives. A total of two online citizen assemblies were held by Legazpi city to kick off the survey, and to present the survey results to the stakeholders. The primary feedback collection tool used is Pol.Is, which ran for a total of 11 days and collected 327 complete responses.
13 August 2021 – Social media poster with a quote from Mayor Noel Rosal from the Legazpi Citizen Assembly launch event.  The Citizen Assembly launch event was an avenue for the Mayor to explain why it was important to gather citizens' sentiments to better support economic recovery.
Analysis of Legazpi's feedback data showed that there are two opinion groups in the voting sample and that the key difference between the two is the capacity and level of training of the business owners on running a business:
Opinion Group A – Businesses that are already fairly competent in the basics of running a business. They are already using ICT tools in their business and claim to be doing well. This group specifically requested for assistance in digital transformation and acknowledges how it will help their operations. 
Opinion Group B – Businesses that lack training and capacity on the basics of running a business, and do not use ICT tools. This group claims that they don't need ICT tools, and instead request for financing.
The feedback analysis results of Legazpi showed that the key support required by MSMEs in the city are:
Ensuring the sufficiency of utilities (electricity, water, internet and telephone);
Availability of financing for micro-businesses;
Capacity building on basic business-related topics such as planning for succession, management of finances, marketing, and use of ICT;
Support for digital transformation;
Lack of information, knowledge, and funds, to register and comply to rules and regulations (for micro-businesses only);
Presence of a go-to office that specifically provides financial/registration/development assistance to businesses; and,
Concerns about the hazards posed by the Mayon volcano and other natural hazards like typhoons and floods.
As for Iligan LGU, the city focused on formal and informal MSMEs in the city, and how the informal sector can be supported to register and join the formal sector. Iligan LGU conducted two citizen assemblies, one to kick off the feedback collection process and the other, to present the results to stakeholders. Similar to Legazpi, Iligan used Pol.Is platform to deploy a 45-statement survey, which ran for 13 days. 229 people voted compared to the 20-30 who would attend Iligan's previous physical public consultations. 
Analysis of the feedback data of Iligan collected showed three distinct voting patterns:
Opinion group A – Freelancers, home-based businesses, and newly opened businesses that started because of COVID-19
Opinion group B – Established businesses mostly with physical stores, already registered with DTI, and have been operating for at least a year
Opinion group C –  Micro businesses and home-based businesses, many are not DTI registered
15 October 2021 – Social media poster with quotes from Iligan's opening and closing events. The Iligan Citizen Assemblies were well attended by MBC members' representatives and DTI Secretary Ramon M. Lopez expressed his support for the initiative to gather input from citizens for the purpose of economic growth.
Groups A and C are similar in terms of demographic, but group C needs the most support in terms of running a business and complying with government rules and regulations.
The feedback data of Iligan also highlighted the following key support requirements by the MSMEs:
Lack of (awareness of) programs and policies that support MSMEs and freelancers;
Need for relaxation of registration deadlines and requests for local tax amnesties;
Streamlining of business process registration and tax filing (through digital platforms);
Need for training on marketing, business, finance management, compliance to policy, ICT tools for business, etc.; and,
Fast-tracking of Covid-19 vaccinations.
Presented with the results and suggested next steps co-created with stakeholders, both Legazpi LGU and Iligan LGU pledged to incorporate these findings to craft inclusive and effective policies that would best support MSMEs in their localities.
Social Media and various internet platforms have captivated Filipinos into publicly sharing thoughts, feelings, and opinions, on various public issues. While this amplifies citizen voice and participation, this information can likewise be misinterpreted and misused. Information Communications Technologies (ICTs) offer a wide range of tools to effectively collect, process, and properly draw insights from online citizen feedback, which can be used to inform policy decision-making and make programs more relevant and citizen-centric. Furthermore, it helps optimize government resources and improve monitoring of ground impact.
The cases discussed in this document, methods, and analysis procedures may be replicated, and built on, by other local government units and institutions for various decision-making cases.
The succeeding handbooks of the Digital Democracy Series dive deep into the processes and tools of the Digital Democracy process, and provide guidance to other LGUs, should they choose to conduct their own online consultation with their citizens.
Frei Sangil
Data Scientist, Layertech Software Labs
 
Engr. Lenidy Mañago
Research Specialist, Mañago Engineering Consultancy
 
Lany Laguna-Maceda, DIT
Associate Professor, Bicol University College of Science
 
Administrator (Atty.) Guiller Asido
Administrator, Intramuros Administration 
 
Rodrigo S. Magat
Consultant and Board Secretary
Intramuros Administration
 
Fr. Jose Victor E. Lobrigo
President and CEO, SEDP (Simbag sa Pagasenso, Inc.) 
 
Carlos "Chito" Ante 
City Administrator, Legazpi City
 
Rosemarie Quinto-Rey
President, Albay Chamber of Commerce and Industry
 
Honelet Soreda-Bertis
Legal Officer/Secretary General, Albay Chamber of Commerce and Industry
 
Michael Lagcao
Office of the Vice Mayor, Iligan City
 
Karen May Crisostomo
Pasig Transport Office
 
Ms. Czarina Medina-Guce
Governance Specialist, UNDP, and Lecturer at Ateneo de Manila University
 
Luz G. Galda
OIC – Division Chief, Business Development Division, DTI – Lanao del Norte
 
Ma. Welissa V. Domingo
Head, SME Development Unit, DTI – Lanao del Norte
Attribution-Noncommercial 4.0 International
The contents of this material can be used in any way permitted by the copyright and related legislation that applies to the intended use. No permission is required from the rights-holders for non-commercial use. However, attribution is required for the modification and dissemination of this handbook and its contents. 
Please credit and/or link to Makati Business Club.
For more information, concerns, and queries, please contact: MBC Secretariat at  makatibusinessclub@mbc.com.ph
The Digital Democracy Project
Copyright © 2022 The Digital Democracy Project | Makati Business Club