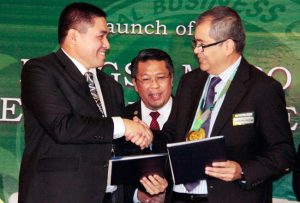 The Makati Business Club (MBC) and the Bangsa Moro Federal Business Council (BMFBC) have inked a pact to strengthen business and entrepreneurial relations that would help boost the economy.
On Thursday, MBC Executive Director Peter Perfecto and BMFBC Chairman Abdulgami Macatoman signed a memorandum of understanding to formalize cooperation between the two organizations.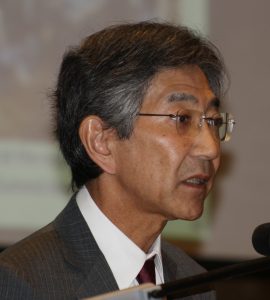 24 March 2017 – The Ambassador of Japan to the Philippines Kazuhide Ishikawa highlighted the vibrant relationship between Japan and the Philippines in his address during the Makati Business Club's Second General Membership Meeting for 2017. The Ambassador, who was designated to the country in August 2014 defines the Philippines-Japan relations as a "strategic partnership", one that is based on shared basic values, common goals, and long-standing friendship.
Amb. Ishikawa noted the countries' partnership in economic front. Japan has been the Philippines' largest trade partner, with total trade reaching US$ 21.19 billion in 2016, compared to other major partners such as China (US$ 21.17) and the United States (US$ 15.86). Since the Philippines-Japan Economic Partnership Agreement (PJEPA) was ratified in 2008, trade between two countries increased by about 20%. The top envoy also mentioned that Japan is a major source of investments since 2000, with the cumulative FDI totalling Php 635.88 billion. He said that most of the Japanese companies operating in the country are engaged in manufacturing activities in the country's economic zones.
In its First Semester Executive Outlook Survey for 2017, the Makati Business Club members expressed a highly optimistic outlook for the Philippine economy expecting it to either surpass or sustain last year's 6.8% GDP growth. This is despite anticipating an increase in inflation and interest rates this year, coupled with a critical outlook on trade.
The MBC survey received responses from 76 out of its 380 (20%) corporate members; majority of these responses were received from senior executives and top management representatives.
MANILA, Philippines – Leading business groups in the country have jointly called for the speedy execution of the common train station project that would link the Light Rail Transit Line 1 (LRT-1) and Metro Rail Transit (MRT) Lines 3 and 7.
By conveniently serving some 1.5 million commuters, the common station is seen to "finally close the missing link" between the heavily used MRT-3 and LRT-1 as well as incorporate them with the recently approved MRT-7, the groups said.
"We fully support the MOA (memorandum of agreement) executed among the train operators of LRT-1, MRT-3 and MRT-7 and the Department of Transportation (DOTr) agreeing to the intersection of EDSA and North Avenue in Quezon City as the location of the common train station," they said in a statement.
Amb. Kim: Regardless of US policies, big advantages that draw US companies to the PH will not change