09 May 2017 – The Makati Business Club (MBC), in partnership with the Australian Embassy and the Australian Trade and Investment Commission (Austrade), held an MBC Conversations session today on creating a more competitive Philippine economy in the context of globalization and regionalization. Mr. Mark Thirlwell, chief economist of Austrade and the event's resource person, provided his expert assessment on the global economy, the challenges and uncertainties created by recent geopolitical developments.
5 May 2017 – We wish to inform you that the office of the Makati Business Club has been temporarily moved to
Rooms 510, 511 and 512, 5th floor of the AIM Conference Center Manila (ACCM) due to the on-going
renovations in the 2nd floor where our office is located. As the MBC Office was also slated for renovation
this year, a decision has also been made to move up the schedule of our own renovation plans to coincide
with the ACCM renovation, and we expect this to be completed by end-August 2017.
April 28 – The Makati Business Club hosted a high-level breakfast meeting with a business delegation from Indonesia headed by Rosan Roeslani, Chairman of the Indonesian Chamber of Commerce and Industry (KADIN Indonesia). Guest speakers included His Excellency Thomas Lembong, Chairman of the Indonesian Investment Coordinating Board (BKPM), and Hon. Iman Pambagyo, Director General for International Trade of the Indonesian Ministry of Trade.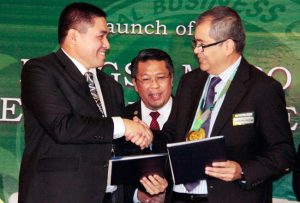 The Makati Business Club (MBC) and the Bangsa Moro Federal Business Council (BMFBC) have inked a pact to strengthen business and entrepreneurial relations that would help boost the economy.
On Thursday, MBC Executive Director Peter Perfecto and BMFBC Chairman Abdulgami Macatoman signed a memorandum of understanding to formalize cooperation between the two organizations.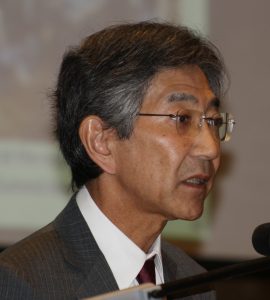 24 March 2017 – The Ambassador of Japan to the Philippines Kazuhide Ishikawa highlighted the vibrant relationship between Japan and the Philippines in his address during the Makati Business Club's Second General Membership Meeting for 2017. The Ambassador, who was designated to the country in August 2014 defines the Philippines-Japan relations as a "strategic partnership", one that is based on shared basic values, common goals, and long-standing friendship.
Amb. Ishikawa noted the countries' partnership in economic front. Japan has been the Philippines' largest trade partner, with total trade reaching US$ 21.19 billion in 2016, compared to other major partners such as China (US$ 21.17) and the United States (US$ 15.86). Since the Philippines-Japan Economic Partnership Agreement (PJEPA) was ratified in 2008, trade between two countries increased by about 20%. The top envoy also mentioned that Japan is a major source of investments since 2000, with the cumulative FDI totalling Php 635.88 billion. He said that most of the Japanese companies operating in the country are engaged in manufacturing activities in the country's economic zones.