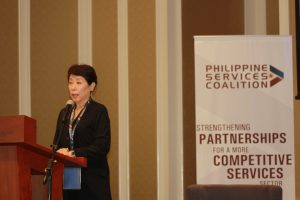 October 4 – Industry experts, business executives, and leaders from key services subsectors came together in the first Philippine Services Conference and Roundtable Discussion held at the Makati Diamond Residences, Makati City. The conference is the first major event of the revitalized Philippine Services Coalition (PSC), the leading services organization designed to act as the voice of the country's dynamic services sector and represent the industry's diverse interests in relevant trade in services and policy issues.
The Philippine Services Coalition (PSC) commits to substantially contribute the ongoing work on the APEC Services Competitiveness Roadmap, joining the ranks of the Asia Pacific Services Coalition (ASPC) in moving towards an improved services sector. The roadmap aims to facilitate services trade and investment and enhance the competitiveness of the services sector through the adoption of a concerted set of actions and mutually agreed targets to be achieved by 2025.
23 June – 2016 marks the 70th anniversary of formal diplomatic ties between the United States and the Philippines. In observance of the anniversary, a mural (by renowned Filipino artist Dominic Rubio of Laguna) was unveiled in June at the newly
renovated former Philippine Embassy chancery building in Washington,
30 June – We laud President Rodrigo Duterte's first order to all Cabinet secretaries to reduce requirements and processing time of all applications across all agencies and remove redundancies in these requirements and to respect the sanctity of contracts.
We further laud his statement that the country will honor all existing treaties and international obligations. We are encouraged as well by his call for inclusivity in the ongoing and other peace processes, particularly of indigenous peoples.