1 March 2019 – The Makati Business Club and the Organisation for Economic Co-operation and Development (OECD), with the support of the European Union, conducted a roundtable meeting today on Responsible Agricultural Supply Chains.
21 February 2019 – The Makati Business Club expresses its concern about the arrest of Rappler CEO Maria Ressa on February 13, 2019. Especially while there are questions about whether the law is applicable, we believe the authorities should err on the side of the freedom of the press that is a bedrock of all our rights and liberty.
January 29 2019 – The Makati Business Club (MBC) and the Italian Chamber of Commerce in Singapore (ICCS) signed a Memorandum of Understanding (MOU) today for cooperation in promoting direct investments and fostering business partnerships between Philippine companies and Italian companies. MBC was represented by its Chairman, Mr Edgar Chua, while ICCS was represented by its President, Mr. Federico Donato.
12 December 2018 – International legal expert David Day raised three key considerations in understanding the risks posed by the ongoing tensions between the United States and China – what are we overestimating, let us not underestimate the situation, and what is it that we don't know.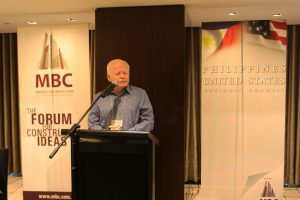 As part of its mission to build stronger people-to-people ties between the Philippines and the United States, the Philippines-United States Business Council, supported by the American Chamber of Commerce in the Philippines and the Makati Business Club, hosted a lunch reception for the Filipino Young Leaders Program (FYLPRO).