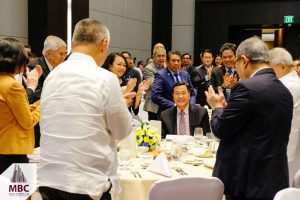 Makati Business Club, Employers Confederation of the Philippines (ECOP), Financial Executives Institute of the Philippines (FINEX), Judicial Reform Initiative (JRI), and Management Association of the Philippines (MAP), paid tribute to retiring Senior Associate Justice Antonio Carpio in a joint a testimonial lunch.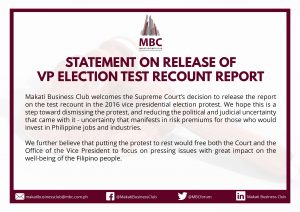 Makati Business Club welcomes the Supreme Court's decision to release the report on the test recount in the 2016 vice presidential election protest. We hope this is a step toward dismissing the protest, and reducing the political and judicial uncertainty that came with it – uncertainty that manifests in risk premiums for those who would invest in Philippine jobs and industries.
The Philippines slid 8 places to 64th out of 141 countries, from last year's 56th spot in the 2019 Global Competitiveness Report of the World Economic Forum. This was due to its global competitiveness score dropping by 0.3, from 62.1 to 61.9 this year while other countries improved their scores. It also dropped to 6th from 5th among nine covered ASEAN countries due to the significant improvement in the scores of Brunei.
The Makati Business Club (MBC) thanks the House Committee on Constitutional Amendments and Chairman Rufus B. Rodriguez for inviting the business community to share their views on several legislative measures filed in the 18th Congress and now with the committee. The organization respectfully submits this position paper on HCR 1, HC 788, HJR 3, HJR 4, and RBH 2 covering federal government, foreign investment restrictions, the election of senators, and the election of an Acting President.
The Rice Tariffication Law (RTL or RA 11203), signed on February 14, 2019, ended the more than 30-year policy of quantitative restrictions (QRs or import bans) on rice import in favor of the shift to tariff as the main instrument in protecting our palay farmers. The RTL favors tariff as a trade instrument because it is more transparent, compared to government-to-government transactions, as anyone who is willing to pay the tariff imposed by the government can import rice.