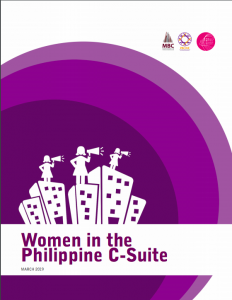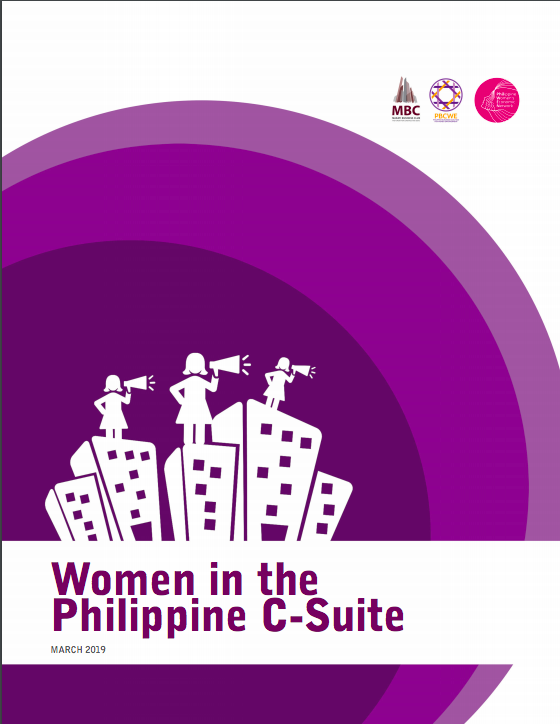 21 March 2019 – The Makati Business Club, in partnership with the Philippine Business Coalition for Women Empowerment (PBCWE), releases this study looking at the state of women's participation in the Philippine C-Suite. The study, "Women in the Philippine C-Suite", focuses on the mid-managers, both male and female, of 129 top Philippine corporations to provide a better understanding on why the number of women dwindles as corporate rank go higher.
This report explains the 4 key interplaying factors – individual, family, corporation culture and societal pressures – that puts a pressure to the rise of women in the corporate ladder. This report also offers insights from CEOs who are leading the women leadership advocacy, as well as offers recommendations for companies to consider to improve gender diversity in their workplaces.
In the World Economic Forum Global Competitiveness Report 2018, the Philippines ranked 56th of the 140 countries surveyed. This 12-place rise from the 2017 ranking is the result of improved economic growth, infrastructure, social capital and safety.
1 March 2019 – The Makati Business Club and the Organisation for Economic Co-operation and Development (OECD), with the support of the European Union, conducted a roundtable meeting today on Responsible Agricultural Supply Chains.
21 February 2019 – The Makati Business Club expresses its concern about the arrest of Rappler CEO Maria Ressa on February 13, 2019. Especially while there are questions about whether the law is applicable, we believe the authorities should err on the side of the freedom of the press that is a bedrock of all our rights and liberty.
January 29 2019 – The Makati Business Club (MBC) and the Italian Chamber of Commerce in Singapore (ICCS) signed a Memorandum of Understanding (MOU) today for cooperation in promoting direct investments and fostering business partnerships between Philippine companies and Italian companies. MBC was represented by its Chairman, Mr Edgar Chua, while ICCS was represented by its President, Mr. Federico Donato.