The Philippines slid 8 places to 64th out of 141 countries, from last year's 56th spot in the 2019 Global Competitiveness Report of the World Economic Forum. This was due to its global competitiveness score dropping by 0.3, from 62.1 to 61.9 this year while other countries improved their scores. It also dropped to 6th from 5th among nine covered ASEAN countries due to the significant improvement in the scores of Brunei.
The Makati Business Club's PHILIPPINE GOVERNMENT DIRECTORY (PGD) is a comprehensive listing of the names, office addresses and contact details of Philippine government officials in the Executive, including Government-Owned and Controlled Corporations, the Judiciary, Philippine Diplomatic Corps abroad, as well as foreign embassies in the Philippines. Also included in this edition are the contact details of the Constitutional offices.
SIX business groups have asked the government's economic agencies to review the economic and budgetary implications of the change in government system to a federal structure.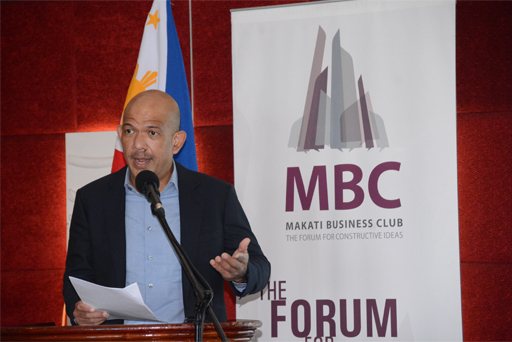 7-Eleven Philippines chief Victor Paterno pitched not one but two ambitious plans when he addressed the Makati Business Club in March. The first is a plan to roll out community-based drug rehabilitation programs, working with police and local leaders to curb drug-related deaths by getting communities certified as drug-free zones.
The second is a proposal to finance the plan in start-up fashion, with investors coming in at several phases in venture-capital style.
The Makati Business Club calls on the country's political and judicial leaders to let the House of
Representatives and, if so determined, the Senate follow the impeachment process set forth in the
Constitution against Chief Justice Maria Lourdes Sereno. Regardless of the outcome of the process,
giving the chief justice the chance to defend herself within our constitutionally-defined process is
essential to demonstrate this country's respect for the rule of law and to assure all Filipinos that we are
protected by our laws.